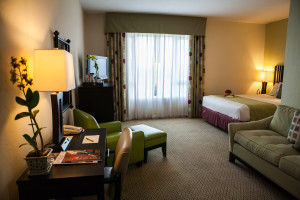 Verdanza Hotel in Isla Verde now caters to tall travelers with extra long beds that provide a comfort fit for even the average six-foot-seven NBA player.
The hotel, which last summer served as the host hotel for the regional basketball championship Centrobasket 2012, has fitted 10 junior suites with extra large beds. The industry standard for king-size beds is 80 inches long; five of the newly-reconfigured rooms at Verdanza feature 84-inch long California Kings, while another five offer extra-long 96-inch long beds.
"For the taller-than-average, travel can be an exercise in discomfort. With them in mind, we offer the relief of comfortable and practical accommodations for a restful sleep without feet dangling off the bed or, provided they have the bed to themselves, lying diagonally with little wiggle room," explained Ricky Newman, general manager of Verdanza Hotel.
The tall-friendly accommodations in junior suites are not offered at a premium. "The extra leg room makes all the difference in the world for the very tall, but our guests do not pay more for the convenience," added Newman.
Verdanza Hotel, www.verdanzahotel.com