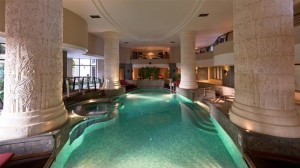 Le Méridien St Julians Hotel & Spa has been praised by travelers themselves with great achievements in the TripAdvisor community.
The hotel was recently chosen as a qualifying property in 3 different categories by TripAdvisor in its 2013 Travelers' Choice awards: Top 10 luxury hotels in Malta, Top 25 hotels in Malta and Top 25 hotels for Service in Malta.
"Our guests' opinion is so valuable to us", explains Franco Vella, General Manager at Le Méridien St Julians Hotel & Spa.
"We have our own internal customer satisfaction system: a detailed electronic questionnaire lead by our Mother Company with elaborated data, strict follow-up guidelines and of course very high targets with regards to the overall satisfaction of our visitors. We share these, as well as our Tripadvisor reviews, with our entire team on a daily basis: this precious feed-back is a guarantee of the permanent improvement of our services. Acknowledging and acting upon our customers' comments is a top priority."
Le Méridien St Julians Hotel & Spa has also just won the Best Spa Hotel award in the Malta category, for The SPA Traveler Awards 2013. The SPA Traveler indeed recently announced the ultimate Spa and wellness destinations around the world, as voted for by their international readers.
And those familiar with the Spa services available at Le Méridien St Julians Hotel & Spa in Malta can certainly confirm that the hotel boasts without a doubt the leading Spa facilities on the island, with a beautiful tropical setting and a successful partnership with the qualified Spa therapists of MyoKa Spas.
"We are extremely satisfied that our hospitality services are going beyond our guests' expectations", concludes Franco Vella. "It is our daily motivator and ultimately our most important goal".
Le Meridien St. Julians Malta, www.lemeridienmalta.com