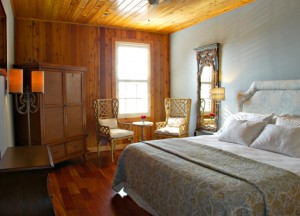 It has been 500 years since Spanish explorer Juan Ponce de Leon set foot in Florida. Whether one celebrates the quincentennial dancing the samba in Miami, visiting Mickey and friends in Orlando, or beachcombing all along the Atlantic and Gulf of Mexico coasts, this is an exciting time to discover Florida's enticing attractions.
Perhaps a taste of "old Florida" is called for. Perhaps that place is laid-back Jensen Beach on Florida's Central Atlantic "Treasure Coast", finding that "fountain of youth" while rejuvenating in a charming historic inn.
The Jensen Beach Inn, completely renovated and lovingly refurbished, is the new kid on the block, but its colorful history dates back over 100 years. Sitting pretty on the second-floor of the historic R.R. Ricou building in the very center of the quaint town of Jensen Beach, it opened its doors in January 2013 to welcome guests.
Here you find seven tastefully-furnished guest rooms, a delightful breakfast room with bar where complimentary breakfast is served each morning, and a captivating sitting/lounge room. Stairs lead up to a rooftop patio with bird's-eye views of the town and spectacular Indian River.
The spacious guest rooms, each with a gleaming private bath, are named after marvelous Florida wildlife murals painted by local artist David Gendron. Five are king-bedded rooms – the Grouper, Panther, Shark, Stingray, and Snook, a king suite. The queen-bedded Gator room is handicap accessible; an elevator is on the premises. The Crane suite with kitchenette, ideal for a family, can be either one or two queen bedrooms. Luxurious linens, central air, Wi-Fi and 47-inch LED televisions are featured in each room.
[slideshow gallery_id="2″]
Danish immigrant John Laurence Jensen began planting pineapples here in the 1880s with the help of Indian and Bahamian laborers. Called the "Pineapple Capital of the World" in 1895, Jensen Beach was shipping out a million boxes of the fruit each year. However, this industry began its decline a decade later because of an infestation and high freight costs. Cuban farmers had been given better rates to transport their pineapples to market. Wild pineapples still grow in abandon in this area, and a pineapple festival is held every year to commemorate this exotic past.
The fishing industry was also an immensely profitable business. R.R. Ricou owned numerous fish houses along the Florida Atlantic coast. His friendship with railroad and hotel tycoon Henry Flagler helped the town to thrive after the entire business section was destroyed by fire in 1908. They agreed to help restore the town's commercial appeal. Ricou built the first building, this very building with the Jensen Beach Inn, and Flagler built the rail station. It seems implausible that at one time, Jensen Beach was the largest town south of St. Augustine.
Fortunately, Jensen Beach retains that colorful "old Florida" feeling where you can relax and re-energize, sauntering into eclectic art galleries and dining in excellent restaurants. Hutchinson Island's beautiful beaches await just three miles away over the bridge for beachcombing and all manner of water sports. Fishing is still a way of life here and so is golf with numerous courses nearby.
Scott and Elizabeth Nugent, the personable innkeepers, are in the midst of planning future special events, perhaps a mystery tour. Massages can be arranged ensuite. The inn is perfect for a romantic getaway, sure to please the most discriminating guests. Rates start from $129.
Jensen Beach Inn,  772-334-1466, www.jensen-beach-inn.com