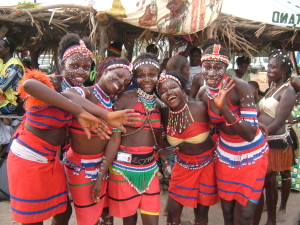 Henderson Travel Service's 11-day package includes roundtrip air from Washington, DC to Dakar, Senegal, roundtrip ground transportation to Banjul, The Gambia, daily breakfast, first class hotels, English speaking guides, tours, other meals as noted in the itinerary, all entrance & Festival fees, air conditioned vehicles and all taxes.
The itinerary is as follows:
Wed, May 1 Depart Washington Dulles Airport via South African Airways at 5:40 pm
Thu, May 2 Arrive Dakar; clear customs; transfer to 4 star Novotel Hotel; after lunch depart for tour to Goree Island and City tour of Dakar. Dinner on your own at the hotel.
Fri, May 3 After breakfast, depart for your scenic drive through Senegal to the Gambia; clear customs at the border; take the ferry to Banjul, check into Laico Atlantic Hotel. In the evening enjoy a Welcome Reception and Symposium introducing the Roots Festival program of events.
Sat, May 4 After breakfast, proceed to the Carnival Procession of Masks & Masquerades and the Opening Ceremony. After dinner on your own, enjoy a live Music Concert in 22nd July Square.
Sun. May 5 After breakfast, depart for a Roots Day pilgrimage full day trip to the Village of Juffureh/Albreda and boat ride to Kunta Kinteh Island, formerly James Island,departure point of many enslaved Africans.
Mon, May 6 After breakfast, depart for the Futampaf Rites, where you will be initiated and united with your adopted Gambian Family in Kanilai, the birth village of H.E. President Sheik Alh. Dr. Uahya A.J.J. Jammeh. In the evening enjoy the Night of the Griots, traditional music and dance.
Tues, May 7 After breakfast, continue with the "traditional" Rites of Passage wherein guests are initiated and formally adopted by their Gambian families.
Wed, May 8 After breakfast, enjoy a leisurely morningand in the afternoon you will enjoy the Regatta, traditional boat race at the Banjul Wharf with traditional drumming and dancing, pillow fights and more.
Thu, May 9 After breakfast, depart for a trip to Makasutu Cultural Forrest, an internationally acclaimed eco-tourism lodge for a boat ride through the creeks, music and dance. This evening enjoy the final African Gala Dinner and Award Ceremony.
Fri, May 10 After breakfast, check out of the hotel and transfer to Dakar Airport for your return flight home.
Sat, May 11 Arrive Dulles International Airport in the morning.
Henderson Travel, www.hendersontravel.com