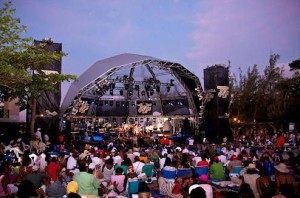 Newly renamed as the Saint Lucia Jazz and Arts Festival, the Caribbean's premier cultural event is expected to attract thousands to the iconic and historic Pigeon Island National Landmark, where the 13 day festival will culminate.
From April 30 to May 12, 2013, the festival will take center stage at scenic vistas across the island showcasing a new infusion of arts, scores of artisans and entertainers.
"After setting the musical benchmark for over two decades, Saint Lucia as a destination needed to redefine not only itself, but critically its flagship special events activity," said Saint Lucia Tourism Minister Lorne Theophilus.
The Saint Lucia Jazz and Arts Festival will be comprised of more than 50 artists performing scenic locales such as Pigeon Island National Landmark, quaint and rustic village settings like Fond d'Or Heritage Park in Dennery; Rudy John Beach Park in Laborie; and the tranquil Port Castries waterfront.
Performances at the Gaiety on Rodney Bay on May 8 and 9 will feature Trinidadian born Trumpet player Etienne Charles; Cuban jazz pianist Roberto Fonseca; contemporary jazz bands from the French Antilles Fal Frett and electric guitarist The John Scofield Uberjam Band. Main stage activities at the Pigeon Island National Landmark will begin on Friday May 10, with performances from R&B multi-platinum American singer, songwriter, dancer and actor Ginuwine; Saint Lucian songwriter and producer ACE and the iconic American popular music family group from Gary, Indiana The Jacksons.
Headlining May 11 and 10, the new Saint Lucia Jazz and Arts Festival will features multiple Grammy-winner R&B mega star singer-songwriter, and record producer R Kelly. Kelly has established his name on the music scene as the King of R&B with dozens of chart topping hits. Other musical hard-hitters include the legendary Ojays; acclaimed Caribbean maestro David Rudder, bandleader and mambo musician Tito Puente Jr.; celebrated guitarist and singer Ronald 'Boo' Hinkson and accomplished Senegalese-American hip-hop recording artist, songwriter and record producer Akon.
The 2013 festival is presented by the Saint Lucia Tourist Board and is supported by Platinum sponsor Digicel along with other Gold, Bronze and Collateral sponsors.
Saint Lucia Jazz & Arts Festival 2013, www.stluciajazz.org