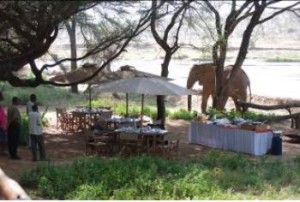 It is an early morning touchdown in Africa – at Nairobi's Jomo Kenyatta International Airport. As you gather your baggage and walk out of the baggage hall a warm and unique welcome awaits you – happy smiling faces greet you with wet towels and champagne.
It is a tradition in Africa to present a gift as an expression of  joy and happiness – what better gift than an authentic safari hat and safari essentials pack. Thereafter transfer to Wilson airport where you may have a quick light snack before your scheduled flight to Samburu Game Reserve, set in the rugged semi-arid northern region with spectacular scenic landscape.
Your flight path takes you past the snow-capped Mt. Kenya, Africa's highest mountain standing at 17,057ft above sea level and into a dry, rugged and stunningly beautiful region with its iconic loaf shaped Lolokowe Mountain and rolling hills spreading in all horizons, On arrival you will be met and transferred to Elephant Bedroom Camp that boasts of luxury accommodations with private plunge pools spread along the Ewaso Nyiro River dotted with doum palms, acacia and giant fig trees. Enjoy a  lunch followed by a late afternoon game viewing drive. Return to the Camp at sunset for dinner and overnight.
Day 2 & 3 Samburu Game Reserve
Your next two nights at the Elephant Bedroom Camp, aptly named so because it is an 'unfenced' luxury bush camp that allows elephants and other wildlife to wander in and out of the camp grounds freely, will add to an experience of a lifetime. It is probably the closest you will ever come to these gentle giants and other game. Your planned schedule includes extended game drives in search of Samburu's 'special five' – the rare reticulated giraffe, long-necked gerenuk, blue shanked Somali ostrich, Grevy's zebra, and majestic Beisa Oryx besides other interesting game including the 'cats'. Your last evening in Samburu will be a celebration – a 'sun downer' at a special site on the banks of the river enjoying cocktail and canapés whilst the naturalist tells you interesting stories of the area and the culture of the Samburu Tribe. Return to the Camp for dinner and overnight.
Day 4 Masai Mara Game Reserve
After breakfast transfer to the airstrip to board your scheduled flight to Masai Mara Game Reserve, arguably Kenya's finest game sanctuary. It is perhaps the only region left in Kenya where you may see animals in the same super-abundance as existed a century ago. You flight path takes you past the Aberdare Ranges and over Lake Elmenteita with a possible view of Lake Nakuru, over the Mau Forest and into the vast plains of the Masai Mara. You will be met upon arrival and transferred to Mara Ngenche Safari Camp located on the confluence of the Talek and the famous Mara River. This small intimate Camp boasting only six tastefully appointed tents overlooking the Mara River is your perfect paradise for the next three nights. When you are not on a game drive you will be entertained by the resident pod of playful hippopotamus and crocodiles basking on the nearby sandbank. A sumptuous lunch is followed by an afternoon game drive in this vast and expansive reserve teeming with game. Return to Camp for dinner and overnight.
Day 5 & 6 Masai Mara Game Reserve
Every day is a new day and your next two days in Masai Mara will offer you the opportunity to go out in search of the 'big five' and other plains game. Masai Mara is the northern most extension of the Serengeti Plains and one of the richest wildlife Game Reserves. It is home to the awesome black-manned lion, elusive leopard, graceful cheetah, stately giraffes, and huge herds of elephants, rhino, thundering herds of zebra, migrating wildebeest and numerous other plains game. You may be lucky to spot the rare caracal or the hunting dogs that has been spotted in recent times. Your planned activities include extended game viewing drives, visit to a Masai Manyatta (home) and visit to a local primary school supported by the 'Manji Foundation' to spend cherished moments with these gorgeous young children.  Dinner and overnight at your Camp.
Day 7 Nairobi & Depart
Amka! Wake up early for breakfast and proceed on a last extended trail of the African savannah – hopefully, you'll see some big game. Return to Camp for lunch and some relaxation. All good experiences must come to an end and sadly you must say 'Kwaheri' (Goodbye) to your wonderful Camp Manager and his teams as you depart for the airstrip to board your return flight to Wilson Airport. You will be met upon arrival and transfer to the 'Manji Residence' for dinner with the Manji Family before being transferred to the Jomo Kenyatta International Airport for your onward flight to Zanzibar.
Set on the banks of the Ewaso Nyiro River in Samburu National Reserve surrounded by doum palms and other beautiful indigenous trees and shrubs sits this small and exclusive camp of 12 luxury tents, 8 of which are on 1.5metre high deck with its private plunge pool. Each en-suite tent is large and spacious measuring over 50sq. metres and are furnished in rustic African style while offering all the comforts expected of a luxury Camp including hot & cold running water, electricity and flushing toilets, spacious shower with unlimited water supply.
When booking this program there is a special 50% off companion offer valid on new bookings up until June 2013.
Twiga Tours, www.twiga-tours.com