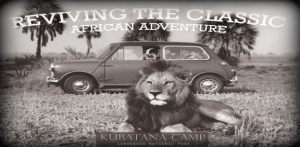 Asilia Africa and Gorongosa National Park have announced their new partnership effective immediately. Asilia Africa is the National Park's newest eco-tourism partner in the development of Gorongosa National Park – and Asilia will open its new Kubatana Camp in the park on July 1, 2013.
Gorongosa National Park, in Mozambique, is perhaps Africa's greatest wildlife-restoration story: a 20-year public-private partnership between the Government of Mozambique and the Gorongosa Restoration Project, a U.S. non-profit organization. The 4,067 square kilometer Park is located at the southern end of the Great East African Rift Valley and supports an unparalleled level of species diversity. In the 1960's, Gorongosa supported some of the densest wildlife populations in all of Africa, including the big cats, herbivores and over 500 bird species. Whilst Mozambique's civil conflict took its toll on the wildlife in the following decades, the habitat remained intact. The ground breaking work and dedication of Gorongosa National Park and the Gorongosa Restoration Project have ensured that Gorongosa is today once again one of Africa's most exciting wilderness experiences, with even brighter prospects for the future of the park.
By adopting a 21st century conservation model based on balancing the needs of wildlife and people, the Government of Mozambique and the Gorongosa Restoration Project are protecting the Park's rich biodiversity, while aiming to enable tourists to enjoy Gorongosa's natural beauty. Today, the Park provides employment for many local people and health and education programs have been established in surrounding communities. Now, Asilia Africa will be joining the Gorongosa National Park as a tourism partner providing an innovative high end eco-tourism product and assisting in formulating and delivering an eco-tourism strategy which will not only contribute to the restoration of the National Park but also create an economy and opportunities for local people.
On July 1, 2013, Asilia Africa will open Kubatana Camp. Kubatana means 'co-operation', 'hand-in-hand' and 'working together' in the local Sena/Chigorongosa language, and therefore could not be a more fitting name for this exciting new joint venture. The 6 luxurious tents will have en-suite bathrooms and there will be a comfortable mess area for relaxing. The light-weight camp will aspire to leave nothing behind but foot prints and will adhere to Asilia Africa's high eco- and sustainability credentials. Activities will include traditional game drives and walking safaris, as well as boating on Lake Urema, visiting the rainforest on Mount Gorongosa for hiking and birding and fly camping. But a safari at Gorongosa will also afford the unique opportunity to be part of the restoration project – be part of a rare species relocation or get involved in a game census. This is sustainable tourism in action.
Bas Hochstenbach, Co-Founder and Commercial Director of Asilia says; "We are honoured to be part of what is certainly Africa's most exciting conservation story. Today, Asilia Africa has a backbone of properties in the most famous nature and wildlife areas in the world and we want to use this knowledge and experience to help protect and develop Gorongosa National Park and to put Mozambique firmly back on the safari map."
Kubantana Camp, www.kubatanacampgorongosa.com