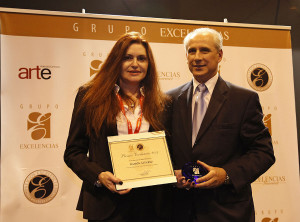 Last January 30th, at FITUR in Madrid, Spain, the Excelencias Awards were delivered. These awards aim to encourage the excellence in different areas, all related to the tourism industry.
Ramon Alvarez, president and founder of Convenco – GSAR Marketing, who passed away on July 2012, received the Posthumous Excelencias Award for a whole life dedicated to the tourism industry. The award was collected with great honor by Charo Trabado, General Manager of GSAR Marketing.
As a recognition of his achievements and contributions to the tourism industry, the Excelencias Group has created the Ramon Alvarez Award in his honor. This award will be part of the Excelencias Awards from the next FITUR edition on, and it will be delivered to a personality in the tourism field.
Fitur, www.fituronline.com