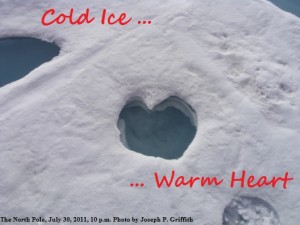 February is the season of love, and what better way to show your loved one you care than with the gift of travel? For the person who has been everywhere and done everything, Expedition Cruises has the perfect gift: a cruise to the North Pole or Antarctica.
The company, based in New York, Moscow and London, is offering travelers the chance to go to the top of the world – 90 degrees north – aboard the Russian nuclear icebreaker 50 Years of Victory, or to the White Continent, aboard the Sea Explorer, the former Corinthian II.
The Sea Explorer is one of the finer ships plying the waters from the southern tip of South America to the Seventh Continent, a land of pristine beauty and splendor. Antarctica is like nowhere else on the planet. Along the way, passengers can see many species of wildlife, including whales, sea birds and penguins. The travel season starts in November and lasts until March.
Expedition Cruises will also continue to take intrepid travelers to the North Pole. The trips go on land, in Helsinki, northern Russia and the Franz Josef archipelago in the Arctic; through the Barents Sea aboard our nuclear icebreaker; and in the air, via helicopter and hot-air balloon. The trips operate from June to August and have sold out every season. Travel agents will earn commission on all bookings.
Expedition Cruises, cruises@expedition-cruises.com, www.expedition-cruises.com