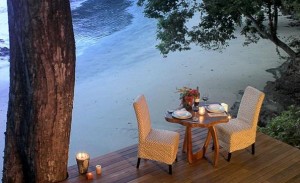 Adjacent to a national marine park in Panama's Gulf of Chiriqui, Isla Palenque is a 400-acre jungle island where a new luxury resort is set to open next week. The first guests arrive February 14. The owners say that " The Resort at Isla Palenque represents Central America's only private island ecoresort with sustainability at its core and a menu of amenities to rival those of the best luxury hotels worldwide".
From the environmentally sensitive design, which has been honored by the IUCN for biodiversity conservation, to its luxurious offerings, every aspect of the resort celebrates Isla Palenque's natural beauty and privileged location.
"Isla Palenque was almost completely wild when we acquired it," sayid Benjamin Loomis, visionary entrepreneur behind The Resort at Isla Palenque, "and our low-impact design nestles the rooms and residences into coastal jungle areas overlooking the uninhabited archipelago beyond, encouraging guests to respect the surrounding wilderness while basking in its surreal beauty."
The accommodations will integrate with their surroundings by way of passive design strategies that succeed in perching the rooms among ten-story jungle trees, offering views into the canopy and Chiriqui Gulf through floor-to-ceiling windows and slide-away glass doors. Local guides lead guests through the island's five distinct ecosystems and into the surrounding Gulf for island-hopping, snorkeling, sportfishing and diving.
The rich biodiversity of the Gulf of Chiriqui and its jungle-covered island gems makes for colorful and poignant exploration: humpback whales frequent the Gulf in summer, and thousands of other native and migratory species dazzle travelers both above and below the surface. Across the Chiriqui Gulf from Isla Palenque lies Coiba National Park, where scientists of the Smithsonian Tropical Research Institute study a proliferation of previously undiscovered species, earning comparisons to the Galapagos Islands.
The Resort at Isla Palenque's efforts to preserve the region's pristine quality extend beyond the island's volcanic shores.
"By developing Isla Palenque as a luxury resort, we not only assure the economic sustainability of our own endeavors, but also provide for our ongoing efforts in the surrounding community to curb destructive practices and support local people who have been living harmoniously within these wild environments for centuries," said Loomis.
The resort team is currently amid final preparations to welcome guests of its soft opening on February 14.
The Resort at Isla Palenque, www.amble.com/islapalenque