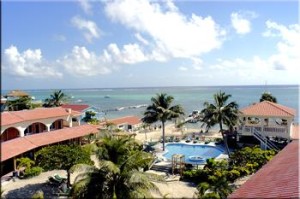 SunBreeze Hotel and SunBreeze Suites are located in the heart of town, providing the perfect location for easy access to every means of entertainment and water sport activity. It is a tropical island twist with a combination of rainforest, Mayan Ruins, cave tubing, visit medicinal trails, baboon Sanctuary and countless Reserves of Belize.
Both locations are separated by a 10-minute walk and have a combined room capacity of 64 units. The SunBreeze Hotel features an on-site PADI Resort dive operator, 'Belize Dive Connection', who also serves divers at the other location.
The SunBreeze Hotel is currently offering the following "Fall in Dive" special which is valid August 1 – October 31, 2013:
From US $520 pp/dbl
Includes:
5 Nights accommodations(Hotel Or Suites)
3 days 2 tank local boat dives with Belize Dive Connection.
Non Diver: A Full Day tour to Ancient Maya City of "Lamanai" (Includes: continental breakfast, lunch and refreshments)
SunBreeze Hotel boasts 43 well spaced air-conditioned rooms consisting of 13 Standard Rooms, 21 Deluxe Rooms and 5 Premier Rooms. An ocean front restaurant and bar, a fresh water pool, a dive shop, an art gallery and a massage studio are also made available.
The SunBreeze Suites boasts 21 air conditioned ocean front suites featuring private bathroom, bedroom, living and dining room area and a fully equipped kitchen, Jambel's Restaurant and Bar and a fresh water pool.
SunBreeze Suites is currently offering the following dive special:
From US $910 pp/dbl diver
Includes:
7 Nights Standard room
Accommodations
All Taxes included
4 days of local 2 tank
boat dives w/ Belize Dive
Connection
Round Trip Local Air
Transfers w/ Mayalsland
SunBreeze Suites www.sunbreezesuites.com, SunBreeze Hotel www.sunbreeze.net