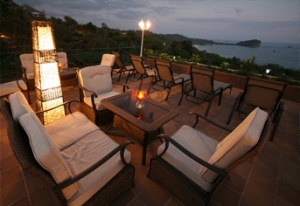 Anyone spending more than just a night or so at Hotel La Mansion Inn in Manuel Antonio will notice that this is more than just a beautiful five star hotel. After an initial introductory cocktail and personal tour of the hotel, through the famous Pirate Cave Bar and upwards past the ocean view pool and waterfall towards the "Sky Lounge" which offers the only 260 percent view of the ocean in the whole town, you will return to your room and finally become settled in, thinking you have seen it all. This most definitely seems to be one of those hotels where you are constantly being presented with something new every time you leave your room, whether this is for morning breakfast, or to be entertained at one the weekly VIP receptions. However La Mansion Inn also seemed to bring with it another genuinely unique aspect that many guests have had the pleasure to become familiar with.
The community of Manuel Antonio and Quepos is a small and in many areas extremely needy community. As most are aware of, the country of Costa Rica is slowly and steadily rising out of its status as a third world country and beginning to establish itself step by step as a developed country. No town, however, can do this with complete effectiveness without the strong assistance of its local Chamber of Commerce. The local Chamber of Commerce is strongly tied to and works very closely with almost every area of the local government, from the specially appointed "Tourist Police" to the life guard teams and the beach.
Many guests at La Mansion Inn might see from time to time, police officers passing through the hallways and meeting rooms being prepared for local officials. For those who desire to feel safe on their vacation, La Mansion Inn has become well known as a "hub" for many of these officials and directors. This is mostly due to the fact that hotel owner Harry Bodaan, after his work in Moscow with the National Press Club, came to Costa Rica to not only open this five star hotel but to become the president of the local chamber of Commerce and Tourism.
As local sewage systems are being rethought, roads are being repaired, funds are being raised for local charities and the police department is being called into action we can always be aware that many of the creative visions and plans are being formulated right at La Mansion Inn. This creates somewhat of a comforting reminder to those who are staying at the hotel and for those who are planning to stay, simply knowing that although they are far from home, in a country that they are unfamiliar with in many ways, that they have chosen to enjoy their vacation in perhaps the most secure location of all.
La Mansion Inn is not just another hotel in the midst of many others, this hotel is strongly inter connected with a growing community who's goal it is to create the ultimate tourism experience for all who visit.
La Mansion Inn, www.lamansioninn.com