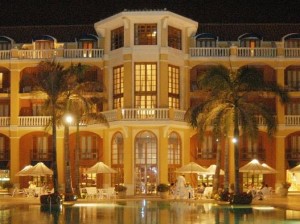 Earlier this month, Sofitel Legend Santa Clara hosted the "Travel Agencies Advisor Board – TAAB" annual meeting of Sofitel, in which 10 American advisers of the luxury market gather together with directives of Sofitel and Accor Hospitality group in order to align brand strategies according to market trends of the luxury hotel industry for 2013.
In 2012 the event was held at the Chicago Water Tower Sofitel Hotel and in Vienna during 2011 to mark the occasion of the opening of Sofitel Vienna Stephandomme. This year Sofitel Santa Clara was the chosen place in honor of its transition to "Legend".
For the Sofitel brand and Accor Hospitality Group, Cartagena is one of the main cities in the Latin American region in which the luxury market is boosting and growing stronger as it attracts hundreds of international tourists increasingly seeking luxury experiences.
During the meeting, strategies to be implemented for 2013 along with brand loyalty programs, market trends and behaviors in relation to luxury and innovation in products and services were decided on.
Sofitel, www.sofitel.com