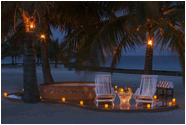 An entire island dedicated to one couple at a time, Royal Belize excels at creating the perfect environment for newlyweds. Sensuality and spontaneity; fine wine and dining; luxurious accommodations and amenities, Royal Belize has it all, and a Honeymoon Package to boot.
The honeymoon offering includes five night accommodations in a private villa, the services of a private chef and resident masseuse, exemplary concierge and butler services, and exclusive enjoyment of the entire island, including a plunge pool, the Grand Palapa, and a range of land and water activities. The package includes complimentary helicopter transfers as well as a number of other small but memorable touches such as rose petal-strewn pillows and Dom Perignon by the sea.
Available until further notice, the Honeymoon Package rate begins at $27,250 per couple. Standard rates apply to additional nights and accommodations. A 9% Hotel Tax is not included.
Royal Belize, www.privatevacationisland.com