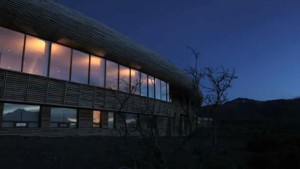 Tierra Patagonia has been named Best Resort in the Travel + Leisure 2013 Design Awards. The award winners were announced in New York last week.
Tierra Patagonia opened in December 2011 and occupies a location on the shores of Lake Sarmiento, at the entrance to Torres del Paine National Park and UNESCO Biosphere Reserve, boasting views of Paine Massif, one of the most photographed landmarks of the Patagonian region.
Tierra Hotels' owners brought together Chile's leading architects to design the hotel to blend with the natural patterns and topography of its location. The result is a harmonious architectural dialog between the elements, landscape and culture.
"We are delighted and honored for Tierra Patagonia to be recognized with this Travel + Leisure award," said Miguel Purcell, General Manager of Tierra Hotels.
"Our intention was to create a space and aesthetic that connects guests emotionally to the unique surroundings and natural beauty of Patagonia, and our design team captured that with a dramatic and graceful viewpoint."
Tierra Patagonia, www.tierrapatagonia.com