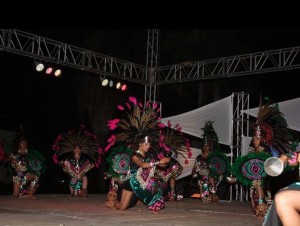 This year, the Sun Triangle destinations – Acapulco, Ixtapa-Zihuatanejo and Taxco – will be hosting a variety of events, aimed to draw international travelers and spectators to these culturally rich and legendary Mexican resorts.
Ranging from high-profile sporting events – including the celebrated Abierto Mexicano de Tenis featuring tennis stars Rafael Nadal and David Ferrer – to cultural festivals and concerts, the 2013 calendar of events for the Sun Triangle destinations is sure to appeal to almost any travel style.
The sun-drenched destination of Ixtapa-Zihuatanejo will be hosting an annual Cultural Festival, taking place from now through March 22. The festival includes special exhibits, workshops and events highlighting the cuisine, music, art and traditions of these beach destinations.
The International Guitar Festival will be taking place in Zihuatanejo from March 3-10. The non-profit community funded festival brings guitarists from all over the world. This year marks the 10th year anniversary of the festival. From March 29-31, Ixtapa will also host an annual Seafood Festival, where visitors will enjoy a variety of fresh dishes prepared with local ingredients.
The colonial city of Taxco, Mexico's silver capital, offers visitors an opportunity to immerse in the local culture by witnessing the callejoneadas, a folkloric musical event performed in the streets by local student bands. This must-see live performance takes place every Friday and Saturday evening at 8pm in different locations throughout the city.
Additionally, the glamorous beach destination of Acapulco will play host to the Mexican Tennis Open starting this weekend, February 25 through March 2. Marking the 20th anniversary of this international tennis tournament, the event is expected to attract thousands of national and international visitors to Acapulco and to the host hotel for the event, the iconic Fairmont Acapulco Princess. Tennis superstars Rafael Nadal and David Ferrer are among the dozens of players traveling to Acapulco to compete in this prestigious tournament.
Sun Triangle Destinations, www.triangulodelsol.travel