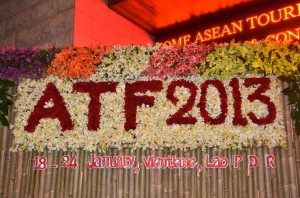 Prime Minister of the Lao People's Democratic Republic H. E. Thongsing Thammavong welcomed the 32nd ASEAN Tourism Forum (ATF) 2013 to his country by citing tourism's strategic importance to the ASEAN – Association of Southeast Asian Nations – and to the forthcoming regional economic integration. The ASEAN is comprised of Brunei, Cambodia, Indonesia, Laos, Malaysia, Myanmar, Philippines, Singapore, Thailand and Vietnam.
"This event is of historic importance for both ASEAN and the Lao PDR in order to prepare for the ASEAN Economic Community in 2015," he stated.
ATF 2013 provided Laos the opportunity to showcase its improved infrastructure since the country last hosted ATF in 2004. And it afforded the nine other ASEAN members the presentation of their respective tourism accomplishments and accolades over 2012, as they respond to the heightened global interest in Asian tourism. The Thirty-Second ATF was held in Vientiane, Laos, from January 18 – 24, 2013.
ATF is the ASEAN Economic Community's tourism component that strengthens and promotes regional tourism. As such, ATF 2013 unfolded under the theme, "Hand in Hand, Conquering our Future," a reference to the overarching ASEAN cooperation slated to culminate in the 2015 regional economic integration. Laos Minister of Information, Culture and Tourism, Professor Dr. Bosengkham Vongdara, stated, "This is an exciting time for Laos' tourism industry and we are honored to host ATF 2013. Since we last hosted ATF nine years ago, Laos has grown in infrastructure and facilities."
Director-General of Laos Tourism Marketing, Mr. Saly Phimpinith, addressed the critical accommodation upgrades underway. "Laos is constantly improving its service standards in the tourism industry. We have begun to classify hotels and guesthouses and are actively promoting community-based tourism in order to improve the standard of living in remote areas. We are adding about 300 rooms this year to our existing capacity of about 3000. We also wish to give ATF TRAVEX delegates (the 3-day, travel trade-only exhibition) a glimpse of this simply beautiful country through the pre-show city tours and post-show tours."
For its international audience, Laos' tourism professionals showcased its capital city Vientiane and her cultural treasures, and an excursion north to Luang Prabang, its former capital now a UNESCO World Heritage Site, and a lush, spiritual jewel where more than 32 temples reside. The country proudly holds another UNESCO designation at Champasak, the 1,000 year-old pre-Angor Wat cultural landscape that surrounds the Vat Phou Temple Complex. Laos is in line shortly to receive two more of the coveted UNESCO designations.
For Laos itself, the country is more open and receptive to embrace the outside influences that will certainly challenge its self-image, and advance it from estranged to engaged. Thus is the corollary to increased tourism, and the desired foreign exchange receipts that promise a means to alleviate poverty through employment.
[slideshow gallery_id="7″]
ATF Updates and On to ATF 2014
The ASEAN is a diverse tropical area fused by Buddhist, Hindu, Islamic and Christian religious imprints, while it reflects Portuguese, Chinese, Spanish, Dutch, British, French and American cultural influences. It is at once unique, alluring, seductive and vibrant.
2012 international visitor arrivals to the ASEAN reached 74.8M, showing a strong 10.4% growth over 2011. Enhanced air connectivity, particularly the strong growth of low-cost carriers within the ASEAN, contributes significantly to the steady intra-ASEAN travel. This alone accounted for 46 percent of total international arrivals, as noted by the Sixteenth Meeting of ASEAN Tourism Ministers.
In 2012, five new airlines launched in ASEAN, namely, Air Asia Philippines, Singapore's Scoot, Indonesia's Mandala, Thai Smile and Lao Central Airlines. Mostly intra-ASEAN carriers, they exist due to the remarkable demand for increased air facilities.
ATF 2013 included 970 exhibitors from 354 companies and properties, 470 qualified buyers from 56 countries, and welcomed first-time participants from Argentina, Austria, Bangladesh, Chinese Taipei, Ireland, Israel, Lao PDR, Nepal, Pakistan, Slovenia, and Sri Lanka. Thai buyers represented 8 percent of the total; Indian and German buyers were close at 7 percent. In addition, 141 media participants attended from 32 countries.
ATF exhibitors represented adventure, business, dive, incentives and meetings, online travel portals, retail travel, spa and wellness, special interest, student travel, tour operators, travel agents and wholesalers. Nine Ministerial meetings were held during the ATF Conference, as were eight activities for National Tourism Organizations.
Intra-ASEAN travel and tour packages are featured on the new www.aseantourism.travel website, launched to coincide with the 2013 ATF. The site focuses on areas pivotal to ASEAN tourism: beach/nature/wildlife, culture/heritage, health/spa, cruise/tour/rail, pilgrimage, and outdoor. It features also policies, facts and figures, events and a calendar of festivals.
Though not applicable to North American travelers, Thailand and Cambodia's 'single visa' came into force on January First. It is the first significant step taken by any ASEAN member state for a common visa. It will directly impact the strong Indian and Chinese markets by allowing for travel up to 60 days each within both countries. It eradicates their need to apply for separate visas. U.S. and Canadian travelers who arrive by air to Thailand may visit for up to 30 days with no visa. However, North American travelers do need a visa for Cambodia.
At the ATF 2013 closing ceremonies, Laotian Deputy Minister of Information, Culture and Tourism Chaleune Warinthrasak handed the ATF glass sculpture to Malaysia's Minister of Tourism, the Honorable Dato Sri Dr. Ng Yen Yen. Malaysia will be the 2014 ATF Host country. Kuching, the capital of Sarawak Island, will be the ATF venue.
2012 ASEAN Tourism Highlights
LAOS:
Laos forecasts achieving 3.7M visitors for 2013, up 14 percent from 2012. Chinese nationals were Laos' dominant tourists in 2012, followed by visitors from South Korea. Marketing efforts are being ramped up to target high-end travellers from long-haul European (UK, France, Germany) and U.S. markets, as well as ASEAN travelers from Malaysia and Singapore. The country's tourism initiatives are clearly focused on ramping up English language university courses and in increased private sector initiatives.
Through land-locked, Laos' rich cultural and religious heritage, and the vast potential of its adventure tourism – its waterfalls, rivers, caves, mountains and wildlife – make Laos a hard to beat adventure destination. Laos' tourism authorities recognize the country's diminished name recognition and are directing their focus to achieve greater marketplace rank, as stated by Director General of Laos Tourism Marketing, Mr. Saly Phimpinith.
PHILIPPINES:
The Philippines welcomed over 4M foreign tourists in 2012, a first-ever record for this nation of over 7,000 islands. This figure reflects almost a 10% increase over 2011 in foreign tourist arrivals. US visitors represent the Philippines' second largest source market after Korea, of which US arrivals increased 4.5% in 2012. The Philippines has projected arrivals of 10M foreign visitors by 2016. Mr. Benito Bengzon. Philippine Department of Tourism's Assistant Secretary for International Promotions, presented his country's 2012 snapshot.
Condé Nast Traveller listed the Philippines as "a destination to watch" for 2013. Travel + Leisure magazine cited the country as "One of the 15 hottest destinations in 2013, stating "Boracay hogs the spotlight, but there are thousands of other islands to lure beach lovers." These international accolades coincide with the first anniversary of the national tourism campaign, "It's More Fun in the Philippines."
Tourism Secretary Ramon R. Jimenez Jr. said, "It is always nice to know that our country is being recognized for its beauty and for the hospitality of our people."
MALAYSIA:
Malaysia's aggressive goal is to reach 36M tourist arrivals by 2020. It is gearing up for the 2014 "Visit Malaysia Year," and hopes to draw 28M tourists in 2014. It was listed ninth as the world's most visited country in 2012, according to Malaysian Tourism Authorities.
Two accolades reflect the dynamic marketing underway from Malaysia: a CNN Survey cited Malaysia as "The World's Fourth Best Shopping Venue", while the 2012 Global Shopper Index labeled it, "Asia/Pacific's Second Best Shopping Destination in 2012." Malaysia's Minister of Tourism, the Honorable Dato Sri Dr. Ng Yen Yen, stated: "The branding of Malaysia as a luxury destination and our efforts to attract high yield tourists to Malaysia have been well-received. This has made a difference."
Malindo Airways, an intra-Malay, low-cost airway, will launch in March 2013. The name is a contraction of "Malaysia" and "Indonesia." Air France will resume its Kuala Lumpur flights in April 2013.
Malaysia will host the thirty-third Edition of ATF in Kuching, Sarawak. It hosted the very first ATF in 1981.
CAMBODIA
Cambodia projects arrivals of 4.5M Visitors by 2015, and 7M by 2020. Its three international air gateways are in Phnom Penh, Siem Reap and SihanoukVille. (The foregoing was compiled from www.mekongtourism.org.)
Culture and nature-based tourism define the thrust of Cambodia's tourism product. The visa for US travelers is valid for one month.
Cambodia's Cultural Tourism:
– The UNESCO World Heritage Site of Angkor Wat, Capital of the Khmer Empire, from the IX through XV centuries, was even larger than New York City's five boroughs, at 400 square miles or 1,000 square kilometers. It was the world's largest pre-industrial city. The Temple of Angkor Wat itself, dedicated to the Hindu God Vishnu, is surrounded by a series of massive canals and an elaborate water system that then served more than three-quarters of a million residents.
Cambodia's Nature-based Tourism:
– Over 70 coral species reside in Cambodian waters.
– Mangroves and wildlife sanctuaries provide Cambodia with unique flora and fauna.
– Cambodia has one of only two nesting sites for the extremely rare Sarus Crane.
– Cambodian Bay is a full member of the "Most Beautiful Bay in the World Club."
– Tonle Sap is Southeast Asia's largest freshwater lake, and Cambodia's ecological hot-spot. The Tonle Sap Biosphere Reserve was so designated by UNESCO in 1997. As such, this biosphere reserve is an international tool and learning site that serves to implement sustainable development initiatives. The foregoing was compiled from the resource of www.canbypublications.com.
THAILAND
2012 ushered in the "Miracle Year of Amazing Thailand." International visitor arrivals to Thailand totaled 22.3M. This reflected a growth rate of 15.98 percent compared to 2011's 19.23M arrivals, as noted proudly by Tourism Authority of Thailand's (TAT) Governor Suraphon Svetasreni.
Long-haul markets to Thailand maintained good growth in spite of the challenging economic situation. TAT welcomed the lucky twenty-first millionth visitor: a Vietnamese traveler who arrived on 28 December 2012.
China and Malaysia now generate more than 2M annual arrivals to Thailand. Japan, Russia, Korea and India each generate more than 1M arrivals. "Higher Revenue Through Thai-ness" is the focus of a target program for upmarket visitors directed towards the so-called RICHI countries – Russia, India, China and Indonesia. Visitors from neighbor Laos reached 900,000. It is anticipated that the one million mark from Laos will be attained in 2013.
Thailand's four driving niche markets include golf, medical tourism, weddings/honey-moons, and adventure tourism. Nationwide there are more than 200 international-standard golf courses, more than 1.5 million international arrivals for medical treatment, exciting boutique properties along with established international hotel companies for the wedding/ honeymoon market, and myriad outdoor activities for the adventure/eco-tourism segment.
More highlights:
– Thai Airways will welcome six more A380s in its fleet this year.
– Suvarnabhumi, Thailand's main international airport, holds the distinction of being the most 'Instagrammed' airport, with over 100K images taken of it.
– Don Meung Airport, the smaller of Bangkok's two main airports, welcomed 10M passengers last year. It is home to the new low-cost carriers.
– The fourth Thai/ Laos Friendship Bridge will open in 2013.
SINGAPORE
Singapore's international visitor arrivals – tallied for the six months from January to June 2012 – stood close to 7.1M, which represents an 11 percent year-on-year growth. (Full 2012 year statistics were not available at ATF.) Singapore Tourism Board Director of Communications, Oliver Chong presented the 2012 Singapore update information.
For the first half of 2012, Indonesian, Chinese, Malaysian, Indian and Australian visitors accounted for Singapore's top-five international markets, while US arrivals ranked 8th.
Accolades and Highlights:
– "Gardens by the Bay", three tropical gardens in the heart of Singapore's downtown was awarded the "World Building of the Year" prize at the World Architecture Festival, which coincided with being held in Singapore. The two shell-shaped conservatories, dubbed "Cooled Conservatories at Gardens by the Bay," are the largest climate-controlled greenhouses in the world. One accommodates flowers from Mediterranean regions, while the other houses tropical plants and a 30-metre-high, man-made waterfall.
– The Marina Bay Cruise Centre Singapore, the island-nation's international cruise terminal opened for business. It is a pivotal infrastructure piece for Singapore's tourism – it accom-modates the world's largest ships while it doubles Singapore's berth capacity.
– One thousand rooms were added to the country's existing 50,000.
– Resorts World Sentosa opened Marine Life Park.
-The Singapore Tourism Board launched individualized campaigns for these significant visitor markets: China: "New Discoveries", Australia: "Get Lost and Find the Real Singapore", India: "The Holiday You Take home with You", and Indonesia: "Only in Singapore, Right Now!"
INDONESIA
Indonesia is targeting 9M tourist arrivals – of which 1M are anticipated from China for 2013. U.S. visitor arrivals rank seventh place, behind Singapore, Malaysia, Australia, China, Japan and South Korea. The diverse landscapes of the Indonesian archipelago comprise more than 17,000 large and small tropical islands.
In early February 2013, Indonesia's National Statistics Bureau issued the following:
International visitors to Indonesia during 2012 exceeded expectations with 8.04M arrivals, an increase of 5.16%, which surpassed the 8M targeted for 2011. Visitors spent a record total amount of US $9.1B in 2012, an increase of 5.8 % compared to 2011.
Growth from the Islamic tourism sector is underway as the Ministry of Tourism and Creative Economy has formed a working group with the National Shariah Board. This will include Islamic education and structures for halal certification, as well as product, training and marketing guidelines.
BRUNEI
The country of Brunei Darussalam – which translates as "Brunei, Abode of Peace" – welcomed 225,000 international arrivals in 2012, as informed by the Brunei Tourism Acting Director Mariani Haji Sabtu.
The current Brunei International Airport modernization projects, targeted for the end of 2013, will double its passenger capacity. Nineteen cruise calls brought in more than 30K visitors. Nature and heritage tourism segments define Brunei's tourism, given the country's pristine rainforests and its Islamic traditions. All Brunei tourism is interwoven with intrinsic Islamic values.
The country's first-ever water park opened in mid-December. Brunei tourists can indulge their nature tourism through visits to the Taman Kulimambang Butterfly Park and the Mangrove Education Center (within the Mangrove belt area near the Brunei River). For more culture, the War Heritage Trail features images of the Anzac Corps, from World War I and II. The Heritage Trail near the Capital City area fulfills family entertainment demands.
With a target growth of 10% for 2013, 83 hotel rooms are slated to augment the current 4,000. The only site in Southeast Asia where all restaurants serve hallal food, Brunei society is structured with Islamic values, of note is that businesses and services close 12 – 2 p.m. for Friday prayers.
MYANMAR
Entry through Myanmar's Yangon International Airport saw tourists arrive from Thailand, China and Japan, with US visitors ranking 4th in arrivals. Travel to Myanmar in 2012 reached 1.1M foreign tourists, and accounted for a dramatic 55 percent increase over 2011 foreign arrivals. Projected arrivals of 1.3M – 1.5M tourists are anticipated for 2013.
Fifteen airlines fly into Yangon, and Asian tourists account for 64 percent of arrivals. The average length of stay is seven days. Within Myanmar's foreign investment priorities, tourism and hotels rank fifth, behind the power, oil/ gas, mining, and manufacturing sectors. Tourism authorities have defined two significant sectors: culture/ history-based tourism and pilgrimage tourism.
The Myanmar Tourism Federation (MTF) is comprised of 11 associations, dedicated to expanding national tourism. In addition, Myanmar is working towards further integration within ASEAN through entities like the Greater Mekong SubRegion.
In 2013, Myanmar will host the World Economic Forum on East Asia in June, and the Sea Games (a traditional Myanmar event) in December. In 2014, Myanmar will Chair ASEAN, and in 2015, it will host ATF.
Consultant Kyi Kyi Aye for the Myanmar Tourism Promotion Department, Ministry of Hotels and Tourism, presented the foregoing information, and added that five new hotels with more than 1,000 rooms are under construction. In 2013, 56 more hotels with 4,000 rooms are slated to open. Currently, the Myanmar hotel room inventory stands at almost 29,000.
VIETNAM
Despite difficulties arising from the world economic recession, Vietnam logged 6.84M international visitor arrivals, an increase of 13.8 percent over 2011, according to communications supplied by the Ministry of Culture, Sport and Tourism. Total tourism revenue reached some US $7.7M, an increase of 23 percent from 2011.
Accommodation capacities in Vietnam were expanded considerably in 2012, with totals of 13,500 facilities and 285,000 rooms, of which 539 are three-to-five star properties. International tourism arrival goals for 2013 are 7.2M visitors, 35M domestic tourist arrivals, and tourism revenues of U.S. $9M.
Vietnam boasts seven UNESCO World Heritage Sites, and 30 themed-tourist areas. Marketed in 2012 under the rubric, "Vietnam – Timeless Charm", its 'Visit Vietnam Year 2012' saw a successful heritage tourism venture in the country's north central region.
In April 2013, the Vietnam International Travel Mart (VITM) will be held in Hanoi under the theme, "Exploring the Red River Delta – the Origin of Viet Culture." Within 'Visit Vietnam Year 2013' is "The Red River Civilization" in Hai Phong, where the Fifty-Eighth Indepen-dence Day Festival will be hosted.
ASEAN, www.asean.org