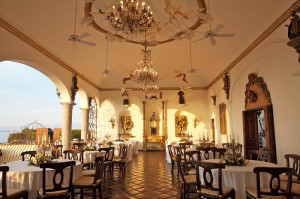 Hacienda San Angel in Puerto Vallarta
A chapel brimming with exquisite artifacts, world-class personal service, gourmet food, breathtaking views, stunningly charming suites, lush grounds and pristine pools combine to create the most idyllic "I do" setting.
Imagine a wedding that is not simply an event, but a celebration from beginning to end. Fireworks, mariachi band, fine cuisine, panoramic vistas and much more help create a lifetime of memories for this monumental occasion.
The hotel's chapel, Puerta del Cielo, is an intimate, on-site wedding ceremony and reception venue for unforgettable weddings of up to 100 guests. With a name that translates to "Door to the Heavens", Puerta del Cielo offers a birds-eye view of the famed 'crown' spire of the Nuestra Senora de Guadalupe cathedral, as well as sweeping vistas that stretch from the verdant Sierra Madre Mountain range to the azure waters of Banderas Bay.  Hacienda San Angel in Puerto Vallarta, www.haciendasanangel.com
Hacienda de los Santos
Guests come to the Hacienda to rejuvenate and relax in an atmosphere of casual elegance, where new friendships are easily made. A sophisticated getaway that gives one the feeling of owning their own personal Hacienda.
Hacienda de los Santos is located just 2 blocks from the main plaza, mercado and cathedral in Alamos. It is possible to stroll along the cobblestone streets and explore this Spanish Colonial gem on foot.
They have extensive experience in organizing weddings so you don't have to worry at all about the ceremony details.
Housed in the Hacienda is a collection of religious art spanning four centuries, including santos, retablos and ex-votos. Adorning the rooms are antique Spanish Colonial furnishings. Each room is uniquely appointed. All rooms have wood burning fireplaces adding to the romantic experience of the Hacienda.
Nightlife is pleasant at the Hacienda and may include relaxing on one of the many portals, where most evenings a group of young Mexican men sing romantic ballads. One may also enjoy movies in the theater and we suggest even bringing a film that showcases the bride and groom's history together.
Hacienda de los Santos, www.haciendadelossantos.com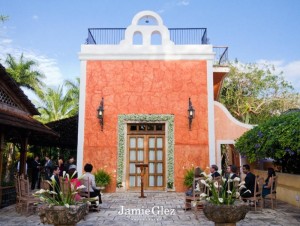 Hacienda Xcanatun
If you have ever dreamed of celebrating your special day in elegant, welcoming surroundings – say, your very own private, colonial-era hacienda — they have something very special to share with you. They're 2-Night Wedding Package is a bridal fantasy come true, offering you the chance to make the restored 18th century hacienda your very own to share privately with 34 of your guests for an exceptionally reasonable rate. Hacienda Xcanatun's owners, pure romantics at heart, created this new package to encourage bridal couples to celebrate their new lives together with friends and family at the historic estate. Surrounded by the romance of colonial Mexico, and the luxury and comforts of a boutique hotel, the Hacienda of Your Own Wedding Package includes exclusive use of the hacienda's accommodations, facilities and grounds along with a staff focused on making your wedding fantasies a reality.
Wedding ceremonies take place in the restored family chapel or chapel terrace, on the dining terrace, or any of the lovely spots in Xcanatun's extravagant gardens. Flowers and candles decorate the wedding site and bridal feast, which features a three-course, gourmet menu combining continental, fusion Yucatecan or European delicacies; a multi-tiered wedding cake; and sparkling French wine for the wedding toast. Xcanatun's on-site wedding coordinator ensures a stress-free experience for the bridal party by tailoring every detail to their wishes.
The spacious bi-level honeymoon suite has a huge wrap-round terrace, 20-foot beamed ceilings, polished stone and marble floors and a marble-clad bath area with a circular hydrotherapy tub. Hand carved furnishings, and antiques decorate the suite, in addition there are alabaster amenities, fine cotton robes, and toiletries made from the essence of grapefruit and juniper. On the wedding night, fragrant with the scent of fresh flowers, candles and incense, the king-size bed is covered in a flower petal design.
The remaining 12 suites and 5 superior rooms, dotted in small clusters throughout the nine-acre garden, have private patios and some boast outdoor hydrotherapy tubs. All of the suites are individually furnished with antiques and heirloom textiles, hand-carved furniture, marble floors.
Hacienda Xcanatun, www.xcanatun.com
Villa Montaña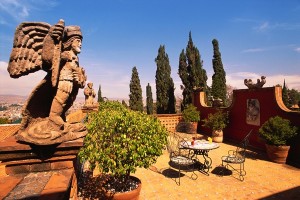 From its secluded hilltop setting, Villa Montana Hotel overlooks majestic Morelia, known as the aristocrat of Mexico's colonial cities and capital of Michoacan State. Each of the hotel's 36 luxurious villa-style suites has its own special character, distinct in design and superb artistic furnishings. Even the cozy fireplaces in each room as well as the enticingly comfortable beds all different. Authentic colonial style is enhanced with modern luxuries. Statuary and stonework motifs decorate the paths that meander through luxuriant gardens of this exclusive "mini-village". In the delightful restaurant, innovative cuisine, with the finest ingredients, is prepared with talent and served with flair.
Villa Montaña, www.villamontana.com.mx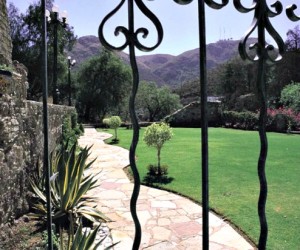 Quinta las Acacias
Quinta Las Acacias, once a mansion, has been beautifully converted in to a guest house for travelers seeking an elegant, authentic, Mexico experience in one the country's most colorful cities. The hotel hosts elegant weddings in a garden which has an amazing elevated location with a fabulous view of the surrounding mountains. At night romantic candle-light turns the garden into an enchanted place.
Elaborate wood carvings, an antique piano that adorns, original stained glass from the late 1800s. This is historic hospitality at its finest and the city of Guanajuato, with its winding underground streets, narrow cobblestone walkways, beautiful plazas and stunning architecture, is truly one of the most romantic destinations in Mexico. Quinta las Acacias, www.quintalasacacias.com.mx
Mexico Boutique Hotels, weddings@mexicoboutiquehotels.com, www.mexicoboutiquehotels.com