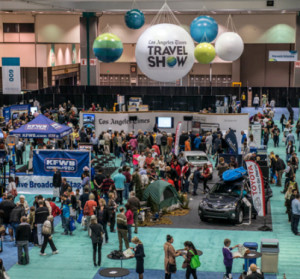 The 15th annual LA Times Travel Show brought together more than 22,000 celebrity speakers, travel professionals, industry leaders, members of the media and consumers at the L.A. Convention Center, February 22-24.
Headliners Rick Steves (author and host of "Rick Steves' Europe"), Arthur Frommer (publisher of more than 340 Frommer's travel guides), Phil Keoghan (Emmy Award-winning host of "The Amazing Race," best-selling author), Mike Wolfe (star of History's "American Pickers"), and Andrew McCarthy (actor and author of "The Longest Way Home") were joined by an impressive roster of authorities on a variety of topics, each sharing road-tested tips for getting the most out of travel experiences. The five-acre show floor was filled with exhibitors from near and far offering travel services, products and advice, as well as show-only specials and giveaways. Attendees also were treated to live cooking demonstrations, fun activities such as a zip line, Bubble Rollers, repelling wall, a wild animal show and postcard-worthy photo ops.
LA Times Travel, Food, Fashion and Photo staff gave presentations and talks on signature subjects ranging from SoCal Close-Ups local guides to tasting tips for globe-trotting foodies. Budget travel experts John DiScala (JohnnyJet.com), Gabe Saglie (TravelZoo) and Brian Kelly (The Points Guy) shared valuable insights into maximizing vacation dollars. Rudy Maxa (The Savvy Traveler) gave pointers for surviving travel in 2013, while Marybeth Bond (GutsyTraveler.com) tackled how to pack a suitcase and Joanna Stern (ABC News Technology Editor) gave a rundown on the latest in portable tech. Josh Gates ("Destination Truth") and Julia Dimon ("The Travel Junkie") each revealed their secrets for staying safe in extreme environments and picks for the best places to find adventure this year.
LA Times partnered with MSE Management and IMG Worldwide to produce the three-day event, which included the second annual all-day Industry Conference.
The next LA Times Travel Show and Industry Conference is scheduled for January 17-19, 2014 at the L.A. Convention Center.
LA Times Travel Show, www.latimes.com