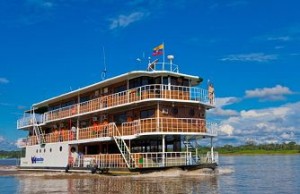 Advantage Travel, after an arduous research of the Ecuadorian Amazon Region looking for new touristic attractions and taking into account the feedback received from previous passengers who have been in previous cruises on board Manatee Amazon Explorer, has decided to update and improve the itineraries that have operated for over 10 years.
The new itineraries combine a great balance of navigation, on board activities, jungle hikes, visits and interaction with local communities, canoe explorations and observation of wildlife and flora of the region.
The four day cruise includes visits to the Pañacocha biological corridor and Yasuni National Park. In the five day cruise they visit the Cuyabeno Wildlife Reserve, the Yasuni National Park and Limoncocha biological reserve. And last, but not least, the 8 day cruise is the combination of both, 5 and 4 day cruises.
Manatee Amazon Explorer, info@advantagecuador.com, www.manateeamazonexplorer.blogspot.com