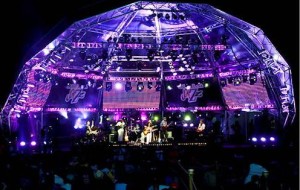 The newly renamed Saint Lucia Jazz and Arts Festival will welcome legends and modern megastars to celebrate the fusion of music and artistic culture beginning April 30 to May 12, 2013.
Performances from headliners R. Kelly, The Jacksons, OJays and Tito Puente Jr., will take place during the 13-day festival staged at venues like Pointe Seraphine and the iconic Pigeon Island National Landmark. Several hotels and resorts on island are offering value-added packages and savings, with discounts of up to 30 percent off room rates, for travelers attending the festival.
"The festival has consistently brought in some of the biggest names in music for over two decades. This year is no exception with several additional artistic elements being added to enrich the overall cultural experience as well as attractive rates from a variety of Saint Lucia's hotels and resorts," says Louis Lewis, Director of Tourism.
From all-inclusive resorts to intimate, luxury hotels, Saint Lucia offers an array of accommodations for travelers of all ages, many of which offer breakfast, spa services and more.
Saint Lucia Jazz & Arts Festival, www.stluciajazz.org