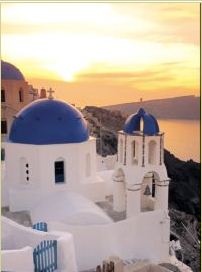 Christian travel provider Journeys Unlimited will offer "Paul's Pilgrimage of Faith" to Greece & Turkey, an 11 day tour that highlights the Apostle Paul's time in the region, from October 12-22, 2013.
As part of the tour, a seven day cruise aboard the M/V Zenith takes passengers to Santorini, Marmais, Izmir, Ephesus, Istanbul, Mykonos and Athens. At each port of call, travelers will discover wonders of Christian history, rich cultures, exotic local culinary traditions and picturesque vistas.
The tour begins in Athens with a visit to the world-renowned Acropolis, with the ruins of the Parthenon, Erechteum, Propylea and Mars Hill, where Paul preached. The first Turkish stop on the cruise is Marmaris, the former fishing village turned popular resort town on the Riviera Shoreline. After an evening there, the cruise continues to Izmir, one of the oldest settlements in the Mediterranean. After a night in Izmir, passengers re-embark the ship to continue to Istanbul, Turkey's largest city.
On the eighth day, the cruise heads back to Greece with a stop on Mykonos, where passengers can explore some of the island's many Christian churches.
Paul's Pilgrimage of Faith to Greece & Turkey includes round trip airfare from New York City, seven nights of accommodations aboard the MV Zenith, two nights of hotel accommodations in Athens, all sightseeing with English-speaking tour guide and most meals. The tour is now available for $3,798.
Journeys Unlimited, www.journeys-unlimited.com