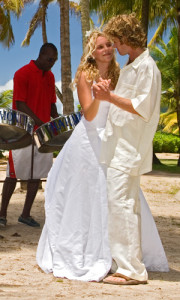 The Saint Lucia Tourist Board and David's Bridal announced a year-long multichannel campaign designed to promote Saint Lucia as a preferred destination for honeymoons and destination weddings.
"David's Bridal is an ideal partner to spread the message about Saint Lucia's offerings as a leading honeymoon and destination wedding location," said Nerdin St. Rose, Vice President Marketing & Sales for the Saint Lucia Tourist Board. "This partnership will enable us to share our island with a highly valued market at a critical stage in their event planning."
The partnership, running throughout October 2013, will promote Saint Lucia as the ideal destination for honeymoons and destination weddings through a series of print advertisements, in-store literature distribution in all major markets as well as online promotions including banner ads, e-newsletters and shared travel e-mails. Couples also have the opportunity to enter to win an all-inclusive honeymoon getaway to Cotton Bay Village in Saint Lucia.
Saint Lucia, www.stlucianow.com