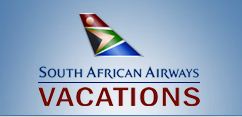 South African Airways Vacations (SAA) has announced new wedding and honeymoon services meant to help couples plan a breath-taking start to their lives together – something only an African vacation can deliver.
A dedicated collection of honeymoon packages are complemented by a new wedding and honeymoon concierge team that will assist couples with planning the celebration or getaway of their dreams. To help fund their honeymoon, SAA Vacations has forged a partnership with the HoneymoonWishes.com registry, where family and friends of the happy couple can contribute to the trip.
SAA Vacations' special collection of customizable honeymoon packages include the 10-day Love & Splendor package, starting at $4,999 per person, and the 10-day Romantic South Africa package, which starts at $8,136 per person.
"SAA Vacations' wedding and honeymoon service allows our clients to combine air and land in a complete way that ensures they are getting the combination of a honeymoon specialist with the best available prices," said Terry von Guilleaume, president of SAA Vacations.
"Destination weddings and exotic honeymoons have become the norm, and we encourage couples to consider a trip to Africa for that special day. Our partnership with HoneymoonWishes.com will help make it more affordable and ensure that family and friends can play a larger role in the process. Ultimately, SAA Vacations' new wedding and honeymoon services are meant to ensure an enjoyable and stress-free experience from A to Z."
SAA Vacations, www.flysaavacations.com