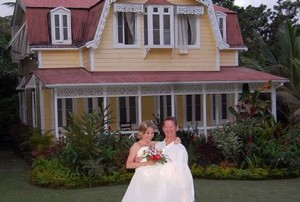 Romance and weddings play an important role in St. Lucia. The island's tourist board even started its own "Lifting the Senses" campaign, which in part aims to target romantic and bridal visitors.
Fond Doux Plantation, which is set against the backdrop of a World Heritage Site, boasts ten idyllic cottages set in a tropical rainforest, surrounded by 30 kinds of fruit trees, local birds and wildlife. The private cottages add to the sense of seclusion and intimacy couples are looking for. Each airy cottage is furnished and decorated with bright colors and dark woods.
The location is perfect for weddings, and everything from the ceremony to the reception can be catered to on site with all amenities. Wedding packages can be easily arranged with staff, making it easier to travel lightly.
Romance is in the air all year long on St. Lucia, so Fond Doux also features inspired romance packages including candlelit dinners by the property's pools. Couples massages and even vowel renewals are also possible on site.
Fond Doux is undertaking a $2 million addition this year to enhance its health and wellness experiences on its authentic working plantation. The enhancements include the construction of five new deluxe cottages with rainforest showers and plunge pools, refurbishing of the existing cottages, alarger lobby with a new lounge area in the main building, a refurbished spa and a new gym
Fond Doux Estate, www.fonddouxestate.com