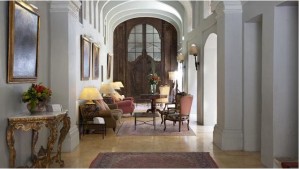 The Xara Palace Relais & Chateaux was once again this year voted one of the world's top 10 castle hotels by Fox News, underlining the leap that this Mediterranean hospitality icon has made as a must-visit destination.
The hotel has been featured in the world's leading style and glamour magazines such as Vogue and Vanity Fair, as well as attracting visits by celebrities such as Brad Pitt and Angelina Jolie, Sharon Stone, Orlando Bloom, Jennifer Anniston, Bruce Willis, Simply Red's Mick Hucknall, Josef Calleja, Lucio Dalla, Rupert Everett, and a raft of VIP's, politicians, entrepreneurs, business leaders and other prominent figures.
Several publications, including the Wall Street Journal and Diplomat Magazine, have written rave reviews about the property. It has been featured in the Roux Brothers Magazine, showcased at Harrods in London March 2012, and became the recipient of numerous dining awards including an unprecedented performance in the Salon Culinaire competition, winning a sixth title for gastronomy as well as a Runners-up Award for the Best Dining Boutique Hotel in the World.
The starting point for The Xara Palace Relais & Chateaux vision is to create a memory for its guests. The property believes in customizing its services to individual guests to increase the fondness of that memory. This can best be understood by reference to the individually designed interiors for each of the 17 luxury bedrooms in the hotel. Each creates a different mood and atmosphere for the guest through its antique paintings, furniture and fresh decorative style.
That vision is the foundation upon which Infinitely Xara was launched in 2012, with 2 new properties, The Xara Lodge and Palazzo de Piro, to extend this unique place in the world of Mediterranean hospitality.
Xara Palace, www.xarapalace.com.mt