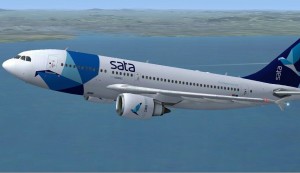 The Azores: $1,039
The Azores are the closest and one of the more affordable destinations in Europe. The wild nature, mild climate and European culture of the Azores Islands are the perfect answer to a spring break, as SATA Airlines announced new packages. Starting at $1,039, the packages include round-trip airfare with taxes, hotel stay for six nights and breakfast, and are offered until late May 2013.
SATA is offering 29 different hotels on six islands – including the first ever fly and stay package to Graciosa Island. There are six hotels offered on the island of Terceira, two on the island of Faial, one on the island of Santa Maria, two on the island of Pico, and 17 on the island of Sao Miguel.
Lisbon: $1,289
Lisbon is the hot place to be this spring. The city has been reborn with a host of new museums, restaurants, cultural venues and hotels. SATA Airlines has new package to Lisbon with five hotels to choose from starting at $1,289 ppdo for six nights with air, all taxes, and breakfast.
Packages from Boston to Lisbon, with other cities available, depart Tuesdays and Fridays with six-night stays at a choice of four hotels. All packages include daily breakfast. Choose a package that combines a stay in São Miguel in the Azores. Children under six pay only child's airfare. Children under 10 pay just 10 percent of the hotel rate, plus airfare. Travel is valid until May 2013.
Madeira Island: $1,379
Looking for a new spring escape that is affordable and warm? Madeira Island off the coast of North Africa is closer this spring with new flights from Boston and expanded packages for air and lodging. SATA Airlines has 6-night packages from Boston Logan Airport to Funchal (via the Azores) with more flights to choose from and eight hotels. Six nights hotel, air, and all fess start at $1,309, and are offered until late May 2013.
Visitors visit the Madeira Island for the natural beauty, and they stay to experience the ocean, golf, hiking, deep sea fishing, diving, an old world charm of the island and its mountains and seaside towns. Madeira remains an uncrowned and sophisticated pearl of European charm, where visitors can experience the sea, mountain hiking, or city culture. George Washington was a great fan of Madeira wine.
Availability for each package depends on choice of hotel and islands visited.
SATA, www.sata.pt