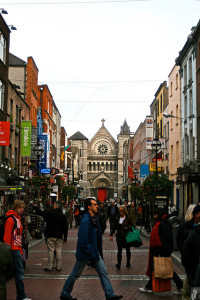 More than one million people from the United States and Canada visited the island of Ireland in 2012 – a 3 percent increase on the previous year. This is according to figures recently released from Ireland's Central Statistics Office.
While the exact number, 1.017 million, is an achievement in of itself, it is the proportion of these folks who were vacationers and holidaymakers which is especially pleasing to the Tourism Ireland group.
The number of vacationers, those influenced by the promotional campaigns of Tourism Ireland and its partners, increased by an impressive 7 percent to 622,000. Accordingly, revenue from the U.S. and Canada increased by 9.3 percent..
"The United States continues to be one of the strongest international markets for tourism to the island of Ireland and we are delighted with the figures for 2012," said Executive Vice President Tourism Ireland, US and Canada, Joe Byrne. "The extremely encouraging reports for 2013 so far, suggest that we could be in for another bumper year."
These figures follow the recent release of Tourism Ireland's North American review and 3-year plan entitled "Make Ireland Jump Out" which sets an ambitious target of an increase in American visitors between 2013 and 2015 of 20 percent or greater.
A factor which will underpin this growth is the increase in the number of airline seats between the U.S. and Ireland. This summer will see almost 25 percent more airline capacity on routes to Dublin, Shannon and Belfast than in 2012.
Tourism Ireland will also target new segments during the life of this plan including, 'young independents' 'middle-aged explorers' and 'mature must seers and doers'.
Tourism Ireland, www.ireland.com