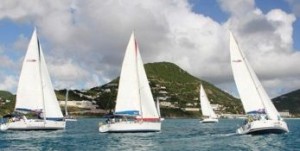 In 2012 the regatta fleet stagnated due to a decrease in the local entries which fortunately was compensated by an increase in the bareboat fleet. For 2013 things are already looking up with 8 Dutch teams already entered, plus the 10 teams currently forming of which 5 are in the United States.
At this stage there are two Moorings 505 and 5 Sunsail 44i available for charter. Also available are a number of more exotic boats such as the 61ft X "NIX", Ben Jelic's J120 "J-aguar" and the two master "Kate". On Tortola there are still a number of Moorings 50.5's available which can be moved to St. Martin for a small delivery fee.
The first signs of a recovery in the regatta-charter market are there with an increase of 50 percent in the bookings at the Winward Adventures charter company. Last year's numbers are at the Golden Rock are expected to double this year with nearly 200 participants.
Sources on St. Maarten and St. Eustatius have confirmed that their Royal Highnesses King Willem Alexander and Queen Maxima will be touring the Dutch Antilles this November for their First official visit and will be on St. Maarten on the November 11 and on Statia November 16, 2013.
Golden Rock Regatta Program for November 14-18, 2013
Wednesday 13th
GRR Welcoming dinner and regatta briefing at the St. Maarten Yacht Club.
Thursday 14th
Race to Gustavia, St. Barthelemy.
Friday 15th
Race to St. Eustatius
Saturday 16th
Morning Race around the cans off Fort Orange.
PM Race to St. Kitts. (The TV & Press would cover the annual ceremony in Fort Orange in the morning which will be attended by the new Dutch king and dignitaries from the United States)
Sunday 17th
Race to Great Bay
Monday 18th
Race around the cans off Fort Amsterdam (4+ windward / leeward courses).
Closing dinner & Prizegiving at the 12 metre Bar, Philipsburg
Golden Rock Regatta, info@goldenrockregatta.com, www.goldenrockregatta.com