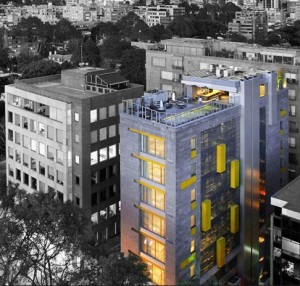 Newly opened in May 2012, the 55-room design-oriented B.O.G. Hotel is a decadent, yet cosseting, base from which to explore Bogota's burgeoning capital city. Famed Portuguese designer Nini Andrade has brought the property to life as a complete expression of her imagination and a concept like no other in the country making it the first Colombian member of the Design Hotels group.
Luxury textures and colors inspired by two of Colombia's greatest natural treasures, gold and emeralds, combined with modern architecture, creates a seamless hotel experience that begins in the lobby lounge and continues upward to the chic rooms and literally reaches its peak at the rooftop bar and pool overlooking the entire capital city. While the in-room décor is intentionally simple using natural stone, bronze, mirrors, mosaics and tinted glass, every comfort is assured, including soundproof windows, 500-thread count linens,oversized, multi-jet rainforest showers, and bathroom products and scents that have been exclusively designed for the hotel.
In line with Bogota's rising culinary star as a whole, the B.O.G. Hotel itself is home to one of Colombia's most respected chefs, Leonor Espinosa. In B.O.G.'s main restaurant, LA LEO, Espinosa aims to protect the gastronomic heritage of Colombia, using traditional ingredients to create fusion dishes that blend cross-cultural flavors with longstanding, local recipes. Whether in Bogota to leisurely explore the growing cultural vibrancy, to conduct International business, or better yet both, the B.O.G Hotel offers a highly personalized and stylized luxury stay experience befitting the most discerning traveler.
B.O.G. Hotel, www.boghotel.com