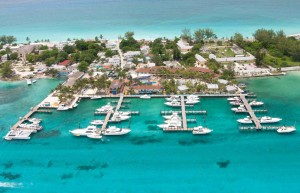 The bulls are running at the Bimini Big Game Club Resort & Marina in Alice Town, with management reporting on brisk business and bookings, plans to increase staff and a successful start to the Bimini Bull Run at-the-dock shark encounter.
"We're already over 30 percent over last year's overall year-to-year revenue and I'm spending this week doing interviews to get ramped-up for what we think will be a very strong season," said General Manager Michael Weber.
Weber and his wife, Diana, the resort's marketing director, have spent the last year creating a wave of promotions to build a family-centric facility at the 51-room resort and marina.
"Though Bimini is still primarily a destination for fishing and diving, we've worked diligently to add family fun and activities, with the addition of watersports, including backcountry kayaking, stand-up paddle boarding, bicycle rentals and even yoga lessons."
Weber said the numbers show family business is up by 60-plus%.
The innovative Bimini Bull Run shark dive experience, which officially opened last month for business, is "really catching on," according to Weber, who said guests and visitors are charged $120 for a chance to visit with a variety of Bimini sharks, including Bull Sharks, which have frequented Bimini marinas since the days of Ernest Hemingway and western novelist Zane Grey.
"This has created quite a lot of buzz and we're just putting the finishing touches on our Bimini Bull Run Shark Bar, where friends and family will be able to actually watch and share the dive experience through underwater cameras," Weber added.
The Bimini Big Game Club Resort & Marina, www.biggameclubbimini.com