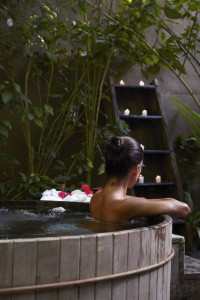 Almescar, a tree with musk-scented sap known by the indigenous Pataxó indans for its curative properties, lends its name to an expanded spa and fitness center, Almescar Spa, at one of Brazil's luxury properties, has rebranded as UXUA Casa Hotel & Spa, in the tropical state of Bahia.
Wilbert Das, owner, architect and designer of UXUA Casa Hotel & Spa has commissioned the local Pataxó tribe, as well as farmers and artisans, to help create the spa's treatment line, as well as hotel bath amenities.
Almescar Spa debuts Bahia's first and only Vichy treatment suite featuring five water jets flowing from carved eucalyptus trunks, designed by Das, in a tropical wet room overlooking the treetops. Additionally there are two interior and one exterior treatment areas and an expanded fitness center for yoga, personal training and one-on-one lessons where guests may learn the art of capoeira, a Brazilian-born sport which mixes martial arts with dance.
A sampling of Almescar Spa's treatments includes the Almescar Oil Massage, Moonbath Pre-Sun Body Scrub and Hydrating Massage in the Vichy suite, After-sun Skin Repair with fresh extra virgin coconut oil, Reflexology with Almescar; Bahian Hot Stone Massage and the Bahian Cacao Facial, as well as a unique mud treatment taken at the source, a spectacular natural lagoon just outside the village, among other treatments.
In addition to the Spa, there is the UXUA's stunning pool made of 45,000 green aventurine quartz that are said to have one of the most healing powers of any gem.
UXUA Casa Hotel & Spa, www.uxua.com