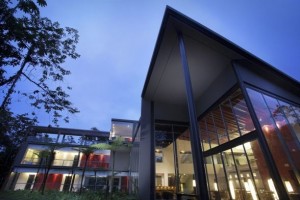 Mashpi Lodge, a luxury cocoon in the clouds located three hours from Quito, has been included in the Virtuoso Hotels & Resorts Program.
"We've been working really hard to make the hotel a unique, original and magical experience for our guests," says Roberto Mora, General Manager. "Being part of the Virtuoso program is a great honor for us and redoubles my team's efforts to make the lodge truly world-class."
Mashpi Lodge joins Casa Gangotena as the only Virtuoso-approved hotel properties in Ecuador. Casa Gangotena also became part of Virtuoso's Best of the Best 2013. Metropolitan Touring has been the country's first "Virtuoso On-Site" DMC – for the last twenty years.
Mashpi Lodge has gained a reputation in the world's media as one of the most exciting hotel openings of the last 12 months in South America. It recently garnered praise in Fodor's list of 100 Top New Hotels worldwide, as well as being named "king of the jungle" in Condé Nast Traveller UK.
Mashpi Lodge, www.mashpilodge.com; Virtuoso, www.virtuoso.com