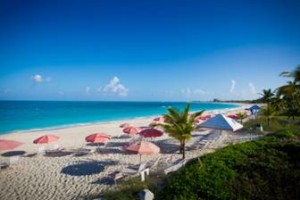 TripAdvisor has announced the winners of the 2013 Travelers' Choice Awards, which identifies the world's top properties and beaches, and Grace Bay, Providenciales, where Ocean Club Resorts is set, has been recognized as the number one beach destination in the Caribbean in the "Top 25 Beach Destinations in the Caribbean" list and has also been named the number two beach destination in the world in the "Top 25 Beach Destinations in the World" list.
TripAdvisor Travelers' Choice winners are based on millions of valuable reviews and opinions from discerning travelers all around the world.
"We are thrilled that the trustworthy TripAdvisor community has acknowledged Providenciales among the top beach destinations in the Caribbean and in the world for the third consecutive year," said Ocean Club Resorts' CEO Tom Lewis. "We understand the most important aspect of every traveler's Caribbean getaway is the beach, and we are happy to provide travelers with a front-row seat of the award-winning, white powdery sands and crystal clear, turquoise waters of Grace Bay Beach."
Ocean Club Resorts in Provo, Turks & Caicos, recently named among the top 500 hotels in the world, is comprised of two all-suite properties – Ocean Club and Ocean Club West – located just one mile apart and both situated on Grace Bay Beach. The beach consists of 12 miles of powdery white sand and amazing crystal clear, turquoise waters providing the ideal tranquil environment allowing Ocean Club Resort guests to lounge in total relaxation under one of the resort's signature pink umbrellas.
The resort encourages guests to learn the art of "Doing Nothing at All" where guests can trade in their every day "To Do List" for a new list of ways to do nothing at all while vacationing at Ocean Club Resorts.
Ocean Club Resorts, www.oceanclubresorts.com