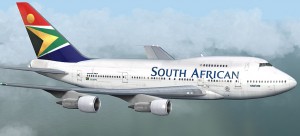 South African Airways (SAA) has put more of Africa on sale, adding new sale fares to six more cities on the continent. The Super Sale for flights from New York to Kenya continues, with fares starting as low as $999. Fares now start as low as $1,160 for travel from New York JFK or Washington, DC (Dulles), to Johannesburg, South Africa.
From New York (restrictions apply on all prices mentioned in this article):
Nairobi, Kenya $999
Johannesburg, South Africa $1,160
Cape Town, South Africa $1,190
Kigali, Rwanda $1,200
Dar es Salaam, Tanzania $1,210
Entebbe, Uganda $1,220
Dakar, Senegal $1,250
"South African Airways is making it incredibly easy and affordable for North American travelers to take a trip to Africa. The combination of our daily flights, convenient schedules and low fares make this a winning proposition for travelers," said Todd Neuman, SAA's executive vice president for North America.
"With seven different cities to choose from, and each offering its own unique culture and exciting activities, there is no better time to travel to Africa. It's simply the best deal in the sky."
South African Airways, www.flysaa.com