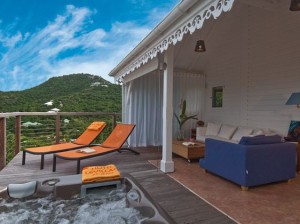 Villa Polaroid is a brand-new hideaway with its own private garden within the terraced gardens of the Hotel LeVillage Saint-Barth, one of the best values on the charmed island of St.Barthelemy.
This maison extraordinaire takes it design cues from the upstart era of Andy Warhol and the Velvet Underground, conjuring up the brashness and drama of Pop Art and Polaroid photography. The original hilltop villa, built 30 years ago, now transcends today's ideas of interior design to become a unique vacation environment of function and whimsy, luxury and romance.
The color scheme begins with white exterior walls and a decorative nameplate then with gradations of whites leads the visitor gently towards an interior of saturated colors. Orange, yellow, green, turquoise, pink and what the designers refer to as sexy red appear, color by color, step by step like the slow appearance of the image and colors of a Polaroid photograph developing before your eyes. Classic Polaroid cameras dominate the décor – some in white boxes adoring the walls, another in the form of an objet d'art that also functions as a desk lamp. The master bedroom's vibrant headboard is a hand-painted homage to American artists from Warhol to Liechtenstein to Haring.
Polaroid's playful panache is augmented by contemporary appliances and services including large-screen TV's, electronic personal safes, personal telephone number and a  German made refrigerator/freezer in the modern kitchen that opens out to a garden filled with bamboo and orchids and native gaiac and courbaril trees.
Guests at Villa Polaroid are likely to spend as much time admiring the bosky private garden as the interior. The patio is a series of nooks and decks – one in the shade for reading and breakfast, another in the open sunlight for tanning or swimming in the mini-pool.
Villa Polaroid at Hotel Le Village is the culmination of a three-year program to restyle and upgrade the all 28 rooms and cottages, enhancing the hotel's 44-year-old reputation for gracious surroundings but making the hotel even more appealing with surround-sound, hydro-jet Jacuzzis, indoor and outdoor showers and Italian fittings.
Villa Polaroid, www.villagestjeanhotel.com/villas/villa-polaroid