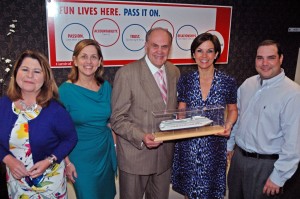 Executives from Skål International recently gathered at Carnival Cruise Lines' headquarters in Miami to finalize details for the organization's first-ever World Congress at sea taking place aboard Carnival Glory this fall.
More than 1,200 Skål delegates from all corners of the globe will convene aboard the 110,000-ton cruise ship during a seven-day cruise that departs New York's Manhattan Passenger Terminal September 28 and returns October 5, 2013.
During the week-long voyage, Skål delegates can attend a wide range of association meetings, seminars, breakout sessions and networking opportunities, while experiencing Carnival Glory's numerous dining, entertainment and activity options. Special shore excursions are planned for Skål members during port calls in Boston; Portland, Maine; Saint John, New Brunswick; and Halifax, Nova Scotia, along with pre- and post-cruise land tours in New York City.
"Bringing more than 1,200 travel professionals from all over the globe to attend our World Congress is always a challenge," said Skål International President Mok Singh.
"Having it on a cruise ship for the first time in the history of Skal presents a great opportunity to showcase cruise conferences. We are confident that Carnival and their team will do an outstanding job for our membership."
SKÅL International New York was the first chapter in North America and will be celebrating its 75th Anniversary during the Congress. Many of the Club's members will be providing Congress attendees incentives to visit their businesses and attractions while in the City as tourism is an important part of their annual revenue.
Non-SKÅL companies who wish to reach this audience must first become a Club member.
Skål World Congress, www.Skal2013WorldCongress.com