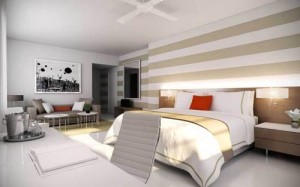 The opening of Pestana South Beach Art Deco Hotel on April 8 means more than a new hotel on Miami's South Beach, it represents the first investment by the Group Pestana in the U.S. market. Pestana, Portugal's largest tourism group, is known for its heritage Pousadas de Portugal hotel brand across the Atlantic. The new Pestana hotel is a rebirth of the historic Hotel Milejan a luxury address on South Beach.
The boutique hotel is ocated in the heart of South Beach with 97 rooms and suites divided into four classic Art Deco Buildings, classified by the local Historic Preservation Board.
"North America is a very attractive and strategic market for the Group Pestana. This is our first investment in this market and Miami is a natural starting point because it is a gateway for Europe and South America where our brand is quite strong," sayid José Roquette, Pestana's development director for the North American market. "We also are well versed in taking a historic structure and updating it in the right ways to make a real destination hotel."
The new hotel revives the 1940's style that made Miami Beach the place to be. With a contemporary and 'retro beach' feel, the Pestana South Beach Art Deco mixes architectural charm with a sophisticated renovation of the former Hotel Milejan Complex, which was built between 1940 and 1952. According to a City of Miami review, the Pestana South Beach Art Deco is representative of the rich diversity of structures and architectural styles that evolved in the City of Miami Beach's Historic District.
Pestana South Beach, www.pestana.com/en/pestana-south-beach