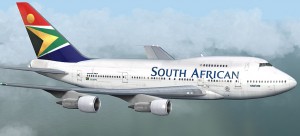 South African Airways (SAA) and Jet Airways have announced a code share agreement that will enable seamless air travel connectivity to several business centres in India and South Africa. Tickets went on sale on April 16, 2013 with travel effective April 18, 2013.
Under the arrangement South African Airways will code share on Jet Airways' operations between Mumbai and Delhi, Bangalore, Hyderabad, Chennai and Thiruvananthapuram. In turn, Jet Airways will code share on SAA's flights between Mumbai and Johannesburg and beyond to Cape Town and Durban.
Customers who are members of SAA's loyalty programme, Voyager, will be able to earn miles and obtain tier status when travelling on Jet Airways using SAA-issued tickets. Likewise, members of Jet Airways' Jet Privilege programme will also be able to earn and redeem JPMiles and earn Tier points/Tier JPMiles when they travel on SAA flights marketed by Jet Airways. This provides an opportunity for customers to spend miles exploring the various Indian and South African destinations on offer.
South African Airways, www.flysaa.com