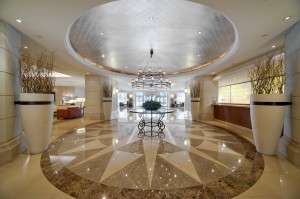 The Corinthia Hotel Lisbon launched "The Ultimate Lisbon Experience," a promotion allowing guests a 50 percent discount on all room upgrades. The offer allows guests to upgrade to executive rooms and suites for half price and access to the Executive Club. The promotion is valid on online bookings until May 1, 2013 for stays until December 31, 2013, and has no minimum night stay.
Guests staying in executive rooms and executive suites may enjoy Corinthia Hotel Lisbon's Executive Club Lounge, located on the top floor of the hotel, which offers a quiet atmosphere in stylish lounge areas with stunning views of Lisbon, including the city center, the 18th Century Aqueduct and Monsanto Natural Park.
Corinthia Hotel Lisbon's new 3,000 square meter Spa has a wide range of treatment rooms including VIP Suites, where guests can choose massages, treatments and therapies to rejuvenate and revitalize.
The property's state-of-the-art conference facility has 16 rooms, with an additional two rooms on the top floor, all with direct natural day light, and a capacity to hold up to 1,400 people in a multi-purpose 32,000 square-feet area with a private entrance from the outside.
Corinthia Hotel Lisbon, www.corinthia.com