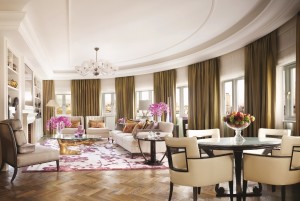 Donna Keane, Manager of Leisure Operations, Protravel International, was the winner of a luxurious two-night stay in one of Corinthia Hotel London's opulent Penthouses. The grand prize drawing took place at the Corinthia Hotel London Live presentation in the screening room of the Crosby St. Hotel in New York City.
Matthew Dixon, General Manager, Corinthia Hotel London, spoke about the hotel's unique attributes, in addition to having the largest rooms in London. Dixon described the Corinthia Hotel London as "an intricately restored grand hotel with a 21st century approach. Its modern elegance is defined by a blend of classic Victorian architecture with outstanding craftsmanship and contemporary art, mirroring the energy, style and history of the area. Guests are offered all the modern luxuries whilst enjoying an authentic experience in a hotel and location with heritage."
'The Seven Penthouses of Corinthia London' are a collection of exclusive two-story penthouse hotel suites. The penthouses are themed around personalities typically found living in an affluent London street – royalty, high society, explorers, actors, musicians, writers and politicians.
Corinthia Hotel London, www.corinthia.com