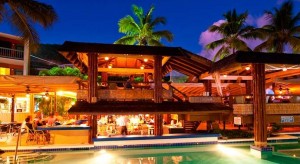 Bolongo Bay is inviting travel agents to experience first-hand the fun, flip-flop casual, family-owned U.S. Virgin Islands resort with special FAM rates.
Travel agents will receive 50 percent off the room-only rates in Oceanview accommodations, directly overlooking the resort's golden sand beach. The special FAM rate is available year-round for a minimum 3-night stay and subject to availability. With the discount, travel agent FAM rates start at $138.50 per day for two people.
Rates include a complimentary Discover Scuba Dive in-pool lesson with the St. Thomas Diving Club, an on-site five-star PADI facility, and complimentary non-motorized including water sports snorkel gear, kayaks, Hobie cats, stand up paddle boards and more. The stay also includes nightly entertainment at Iggies, one of the Caribbean's best beach bars.
For agents visiting St. Thomas via a cruise ship, Bolongo Bay is offering complimentary day passes to enjoy the non-motorized water sports or relax on the beach in beach chairs or hammocks.
Travel agents visiting for the day also receive 50 percent off lunch at either of the resort's seaside restaurants – The Lobster Grille or Iggies Beach Bar – and 50 percent off sail trips on the resort's 53′ catamaran, Heavenly Days.
Bolongo Bay Beach Resort also shows its appreciation to travel agents with a 10 percent commission rate on stays as well as destination wedding packages.
Bolongo Bay Beach Resort, www.BolongoBay.com