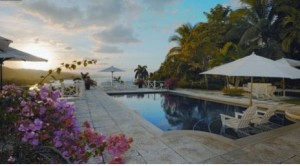 2013 marks a special occasion for Round Hill Hotel and Villas, which will be celebrating its 60th anniversary this year. The milestone year kicked off with the annual Sugar Cane Ball's Studio54-themed party this February, farm-to-table dinner launch in March and the hotel will continue the festivities with the Round Hill Homecoming for past guests to come to the resort August 12 – September 2 to celebrate all things Round Hill. To complement the anniversary, the resort is offering a Round Hill 60th Anniversary Special.
Managing Director of Round Hill, Josef Forstmayr, said he is especially excited about the anniversary year and continuing the core traditions of the hotel for the next 60 years to come.
"After 60 years of operations, Round Hill is more extraordinary than ever," said Mr. Forstmayr. "The hotel continues to provide a playground for people to relax, have fun and take part in the understated glamour of the property, while enjoying the essential luxury villa experience in Jamaica. The property has retained its distinctly Jamaican qualities, and I am proud to say the legacy of John Pringle still lives on here."
Guests who book the 60th Anniversary Special will receive the fourth night free, a daily resort credit of $60, a 50-minute spa treatment for $60, in addition to a welcome gift, complimentary Wi-Fi, daily afternoon tea and more. (Travel dates: April 7 – December 17, 2013; Blackout dates and other restrictions apply).
Round Hill Hotel and Villas, www.roundhill.com