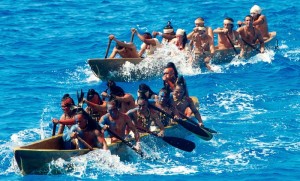 This month local and international tourists will travel to Playa del Carmen for the 7th annual Sacred Mayan Crossing. This traditional 3 day reenactment of the yearly pilgrimage made by the Mayans from the beach of Playa del Carmen across the sea to the island of Cozumel is one of the oldest and most majestic traditions of the Mayan culture. The pilgrims make the long journey to honor the Goddess Ixchel and bring her offerings in search of a divine message for the Mayan people.
The three day event will begin on May 23rd with a Traditional Mayan market at Xcaret Natural Park, located only 10 minutes from the Tukan Hotel & Beach Club. Visitors can exchange modern money for pre-Hispanic coins to buy honey, traditional food, necklaces and other products. The inaugural ceremony will follow with music, dancing and celebrations.
The following morning more than 300 oarsmen in 30 canoes will begin the long 6-8 hour journey across the sea from Playa del Carmen to Cozumel to worship Ixchel, Goddess of the Moon and fertility. The oarsmen will be festively greeted on the beach of Cozumel and the traditional ritual and ceremonies of the pilgrimage will commence. After the celebrations, the participants will rest for the night before starting their journey back to Playa at sunrise on May 25th where they will be welcomed later that day on the beaches of Xcaret for the closing ceremonies.
To celebrate the Majestic Mayan culture and this ancient tradition, the Tukan Hotel & Beach Club is offering a special package for the months of May and June including tickets to Xcaret Mayan Park.
The package includes a stay of 3 nights and 4 days in a Deluxe Room with Breakfast Buffet for 2 adults plus 2 tickets for Xcaret Park. The special promotional rate is $505 including tax.
Tukan Hotel & Beach Club, www.tukanhotels.com