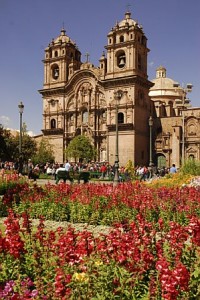 Mountain Lodges of Peru is opening a 32-room boutique hotel in the heart of Cusco. The property is located a few blocks from the Plaza de Armas, Cusco's main square. The new four-star El Mercado Hotel will open June 1, 2013. Built on the site of a former market, the hotel experience and intrinsic decor has been designed to elicit the spirit of a traditional native market where culture and nature meet, combining vibrant colors and a lively atmosphere, and bringing the magic and hospitality of the mountains to the city.
An eye-catching design by Jordi Puig, an interior designer from Lima, has been paired with colonial-style architecture for a welcoming and sophisticated ambience. The guest rooms offer amenities such as Wi-Fi, free use of tablet computers, newspapers and complimentary hot drinks. The large courtyard provides an outdoor space for journal writing or afternoon Peruvian tapas, while lounges and a bar area are open to guide briefings and convivial gatherings at the end of the day.
Guided excursions to local markets, cooking demonstrations and instructions on mixing Pisco Sours, the national cocktail of Peru, are available on certain evenings and upon request.
Mountain Lodges of Peru offers a mixture of adventure and comfort on one of Latin America's most exciting trips: a seven day journey along the famed Salkantay trail that brings the traveler from the high Andes to the edge of the cloud forest. Four well-appointed luxury mountain lodges welcome travelers at the end of each day.
Sustainability and conservation are a key part of the experience, from supporting health and education for local communities to assisting with trail cleanup and land preservation. The reward at the end of the journey is an unforgettable visit to the magical ruins of Machu Picchu, the legendary lost citadel of the Incas.
El Mercado Hotel, info@elmercadohotel.com; www.elmercadohotel.com