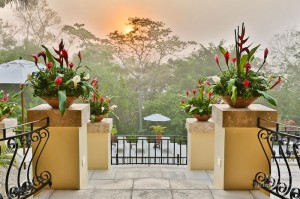 At the Belize Tourism Board's 12th Annual Tourism Awards ceremony, held on May 18, 2013 on Bannister Caye, the San Ignacio Resort Hotel was honored as the Hotel of the Year 2012. The accolade highlights a licensed hotel where service exceeds excellence and positive attitude and attentiveness of staff are the norm.  The recognition is presented to a property that offers exceptional value for money, demonstrates a willingness to adapt to the demands of patrons while remaining true to its core values, is equipped with modern facilities and amenities and embraces green initiatives. And importantly, the Hotel of the Year's ambience gives visitors an authentic Belize "feel".
Accepting the award on behalf of the  San Ignacio Resort Hotel were Operations Manager Paulita Bedran Figueroa and Managing Director Mariam Bedran Roberson.
The San Ignacio Resort Hotel is a premier full-service Belizean resort located in the beautiful Cayo district. The hotel boasts first-class amenities and accommodations for guests who want to relax and enjoy a luxurious tropical resort. Centrally located in the heart of San Ignacio Town, the hotel also offers incredible views of the rainforest along the picturesque Macal River as well as a wide range of fun and exciting adventure tours to nearby archaeological parks, caves and nature reserves. Be sure to check out our very own Iguana Conservation Project located right on the property-Trip Advisor's Number 1 Activity for San Ignacio.
San Ignacio Resort Hotel, www.sanignaciobelize.com