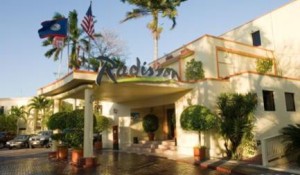 This month marks the 50th anniversary of the Radisson Fort George Hotel & Marina. Having opened its doors in 1963, the Fort George Hotel has come a long way. Over the years several renovations have been done to the hotel to include the addition of the Club Tower and the Villa Annex.
In 1990 the hotel became the Radisson Fort George Hotel & Marina. To date, improvements are continuous with the hotel still keeping its Colonial charm and maintaining its position as an impressive Belize City landmark. The hotel launched newly renovated business class rooms with amenities to accommodate business travelers, a spa to aid in relaxation and pampering and an increase and upgrading of their fleet of transportation for its tour department.
At the Global Conference in 2010, Carlson announced Ambition 2015 which is focused primarily on all its hotels' growth strategy. Through the new strategy, Carlson wants to be known for its new and
improved approaches to upgraded services and products being offered. Three years later, Carlson announced global growth in the Radisson Brand and doubling the size of its members in the Club Carlson Loyalty Program.
Radisson Fort George Hotel & Marina, www.radisson.com