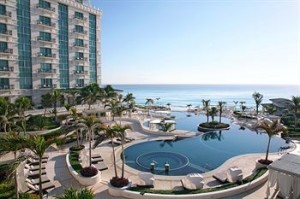 Headquartered in Spain, Sandos Hotels & Resorts offers a one-of-a-kind, all-inclusive resorts in idyllic, tropical settings that are perfect for singles, couples and families of all budget types. Currently the brand features a collection of seven resort properties, three in Spain and four in Mexico, with plans to expand its presence in other exotic locales. The brand's three categories of all-inclusive resorts include eco (green), beach (blue) and luxury (red) focused properties designed to provide guests with a destination vacation experience tailored for a variety of interests.
New for spring 2013 at Sandos' Mexico resorts include:
NEW RESORT: Sandos Finisterra Los Cabos
Opened May 2013 – Expanding the brand's Mexico presence, the legendary Hotel Finisterra in Cabo San Lucas opened as the new all-inclusive Sandos Finisterra Los Cabos Resort in May 2013. Bordered by a unique combination of desert-mountain landscape, an urban skyline and the cool coastal waters of the Pacific Ocean, the property is a hub for outdoor adventure, nightlife and urban experiences. Sandos Finisterra is the fourth Mexico resort in the Sandos Hotels & Resorts collection and seventh in the brand overall. Highlights include:

Brand new full-service spa facility – The all-inclusive resort will feature a brand new full-service 13,191 square-foot spa facility, scheduled to open by the end of summer 2013. The facility will include seven indoor treatment rooms, several private outdoor cabana treatment areas, a separate salon and fully-equipped ocean view gym.
New Restaurants – Guests can gaze across the San Lucas bay as they dine at cliff-top restaurant Don Diego. The restaurant offers daily buffets, a-la-carte dinners and theme nights. Or visitors can enjoy bagels and cocktails shore-side at a la carte restaurant Bagel Beach. The bountiful buffet and three distinctive a la carte restaurants at the resort offer a medley of dining possibilities including Mexican, Baja, gourmet and healthful dining options.
Baja's First Whale Watching Bar – The top-floor, full-service whale watching bar at Sandos Finisterra Los Cabos will feature premier whale viewing spots and signature whale-inspired cocktails using trendy ingredients.
New at Sandos Cancun Luxury Experience Resort (Cancun)
New spa amenities—In addition to Maya-inspired therapies and its signature Nausicaa chromotheraphy treatment, the resort has introduced a new Thalasso treatment to its robust spa offerings. Guests can enjoy this new treatment, inspired by French spa practices that take advantage of the naturally beneficial properties of seawater, at the world-class Spa del Mar.
Seasonal culinary offerings—Chef Angel Ibarra is excited about incorporating authentic Mexican ingredients into this season's menu. Among them are Chaya, Red Achiote, Flor de Calabaza and Huitlacoche.

Chaya—Also called "tree spinach," chaya is a nutrient-rich leafy green originally grown in the Yucatan Peninsula. Chaya must always be eaten fully cooked and is popular in Mexico and Central America.
Red Achiote—Native to tropical areas of the Americas, achiote seeds are derived from the fruits of native evergreen plants. The seeds are used for their vibrant gold color and earthy, peppery flavor.
Flor de Calabaza—More commonly called squash blossoms, these edible flowers are often stuffed with cheese and fried or used as fillings for quesadillas, empanadas  and many other Mexican dishes.
Huitlacoche—A fungus or tumor that replaces normal kernals on a cob of corn analogous to mushrooms and otherwise known as corn smut. Consumption of huitlacoche originates from ancient Aztec cuisine and continues to be considered a delicacy in Mexico for its truffle-like, earthy flavor and aroma.
New at Sandos Playacar Beach Resort & Spa (Riviera Maya)
New Temazcal facility and ritual—Following the renovation of its haciendas in late 2012—ideal for multi-generational getaways—the beachfront resort introduced a new Temazcal facility and ritual February 2013, which will be offered through the spa program. The Temazcal is a traditional ancient Maya sweat lodge ritual held in a circular stone hut that is believed by Mayan people to cleanse and purify the soul. The ritual, typically held at night, features a medicinal "tea" comprised of Mayan herbs that is poured over hot stones in the hut to create a cleansing steam.
New culinary adventures—Sandos just gave all-inclusive a whole new meaning with four new culinary openings. The adults-only Cupcake Café opened in January and features wide variety of cupcakes (boosey cupcakes included), beverages and baguettes. Or, guests can head over to the new creperie at the Bambola bar to enjoy crepes and cocktails. The new additions are part of the vibrant, international gastronomy that Sandos Playacar prides itself on.
Exclusive Avenue Bar—New for spring 2013 is the exclusive Avenue Bar accessible only to Royal Elite Members. Sandos Royal Elite Vacation Club offers loyalty members preferential treatment, special access to premium areas of resorts and discounts on resort amenities. The Avenue Bar at Sandos Playacar is new to the endless list of vacation possibilities made exclusive by Royal Elite memberships.
New Activities for Younger Guests—New resort amenities at Sandos Playacar cater to the children, tweens and teens. A Mini Eco-Park, part of the Kid's Club offerings, debuted in August 2012. It includes a hanging bridge, tree houses and swings, all set amidst jungle surroundings.  The resort also constructed a new 18-hole mini golf course in February 2013. Looking ahead, a brand new Teens Club facility is slated to open in summer of 2013. All are offered complimentary as part of the all-inclusive program.
New at Sandos Caracol Eco Resort & Spa (Riviera Maya)
New eco program – As part of the resort's commitment to sustainability and robust eco initiatives, the resort will add a new eco experience in place of its previous Sandos Planet activity. The new experience will debut in winter 2013.  
Sandos Hotels & Resorts, www.sandos.com