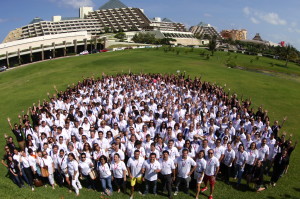 After four years hosting the "Americas Workshop" with great success, in 2013 the  Hotelbeds event has been renamed as "Market Hub Americas".  It has become an annual customer and supplier event that brings together over 600 tourism executives and over 90 industry sponsors including host sponsors Posadas and Meliá Hotels International. More than 1,000 guests attended the gala event.
Starting off with the phrase "let's keep running together", the commercial director of Hotelbeds Martha Álvarez said that for the year 2015 the expectations are to duplicate the market received today. Those numbers today have seen an average of 60 percent growth, with particular focus on the destinations of Brazil, Argentina, Chile, Colombia and the United States.
Hotelbeds has achieved incredible growth rates since 2008, and over the last three years the outbound and inbound business has grown on average of 60 percent. For future growth, Hotelbeds is increasing its hotel portfolio across the region by 24 percent in 2013. It is also predicting 20 percent growth for the Americas region by 2015.
With its size, scale and technical and operational capacity, Hotelbeds is able to help customers and suppliers extend their geographic reach-through by providing a platform to share their products in new source markets and destinations.
The vice president of sales and distribution for the Americas, Cristian Kremers, stated that they will offer an excellent product with all the new improvements, such as a new service called last minute availability, a customer relationship center and a direct payment option. He also said that this event has become somewhat of a trademark for the destination, regarding this particular business niche.
The last day of presentations focused on how Hotelbeds makes the perfect partner for internationalisation and the importance of its Customer Care Centers which deal with more than one million calls and half a million emails each year from clients.
The closing celebration was held at the Moon Palace Golf and Spa Resort, where Hotelbeds received a special commendation from Cultur, the Board of Cultural and Tourist Services for the Yucatan State in Mexico. Mr. Enrique Magadan Villamil, Director of Cultur and José Manuel Bentata Muñoz, Operative Director, presented the award to Hotelbeds, for sharing its vision of raising the quality of the services offered to visitors and tourists to the Yucatan area in Mexico.
The show concluded with a special private concert by the King of Reggaeton, Don Omar. The Puerto Rican and ten-time Billboard Music Awards winner sang his most popular hits including "Dale Don Dale" and "Danza Kuduro".
Hotelbeds, www.hotelbeds.com