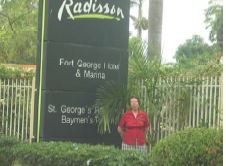 On April 13, 2008 Mrs. Ellen Rosado completed 50 years of dedicated service to the Radisson Fort George Hotel & Marina. The Management & Staff proudly celebrated with her on April 14th, 2008, honoring her years of excellent service to the hotel with an intimate  gathering along with members of her peers.
Mrs. Rosado recalls when she started at the hotel her weekly salary ranged from $12 to $14 and back then that was quite a lot of money. She has seen several managers and many staff come and go through the years and have out stayed them all! Mrs. Rosado has touched the lives of so many people here at the Radisson and has truly been a leader amongst her colleagues in areas of dedication, commitment and loyalty.
The Radisson Fort George Hotel & Marina's family wishes to thank "Ms. Ros" as she is affectionately called, for a fabulous job.
Radisson Fort George Hotel & Marina, www.radisson.com/belize-city-hotel-bz/belize